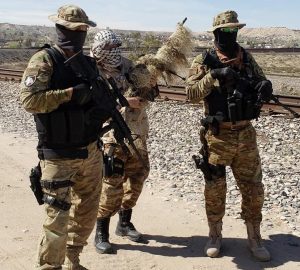 From Facebook
The Second Amendment of the United States Constitution reads: "A well regulated Militia, being necessary to the security of a free State, the right of the people to keep and bear Arms, shall not be infringed."
The situation at the Southern border certainly couldn't be accurately described as anything less than an emergency. These groups are the embodiment of what the Founding Fathers had in mind.
But, the mere thought of a gun sends liberals running to safe spaces and the thought of illegals being uncomfortable sends them into absolute panic. One can only imagine what a seeing a video of heavily armed militia detaining thirsty illegals at the border does to their already precarious state of mind.
Here's what these patriotic groups are now dealing with.
Financials Cut Off

The online fundraising campaign for the United Constitutional Patriots shut down Friday.
The United Constitutional Patriots were notified by crowdfunding giants PayPal and GoFundMe that their online fundraising campaigns have been shut down, dealing a major blow to the militia's operation. The platforms cite a violation of the policy on the promotion of 'hate or violence.'
"The account associated with United Constitutional Patriots has been closed due to a violation of our Acceptable Use Policy," a PayPal spokesperson told BuzzFeed News in a statement. "We do not allow PayPal services to be used to promote hate, violence, or other forms of intolerance that is discriminatory."
The militia had been using crowdfunding with great success, raising thousands of dollars to supply food, gasoline, propane, and other amenities.
"They killed us," Mark Cheney, United Constitutional Patriots Commander, told BuzzFeed News in a phone interview. "I have to find some other way for people to donate."
Here is the group's Facebook page should you wish to contact them about donations: United Constituional Patriots
Mischaracterization, Slander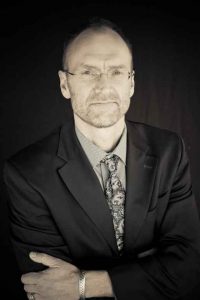 Peter Simonson
Peter Simonson, executive director for the ACLU of New Mexico, alleges that the group is guilty of false imprisonment, impersonating law enforcement and perhaps kidnapping.
Simonson said he grew concerned about the militia impersonating law enforcement officers after watching videos posted by the group.

"That's one crime that is a federal felony," Simonson told BuzzFeed News. "I also suspect the militias could be guilty of false imprisonment and maybe even kidnapping, and that's just the tip of the iceberg."

Armed detention of large groups of people who recently crossed the border is "completely unprecedented," Simonson said, even when compared to the Minutemen Project that descended on the border in 2005 and 2006.

"This pales in comparison to anything I've previously seen," Simonson said. "This underscores the importance of authorities prosecuting thee issues to the fullest extent of the law. They need to send a signal to any other group considering this type of anarchy, it is simply prohibited and illegal."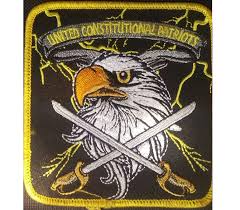 UCP Patch
Cheney, who has been a member of the United Constitutional Patriots since its inception six years ago, has no qualms about being mistaken as law enforcement.
He conceded some of the men carry badges that resemble those worn by law enforcement.

"If [immigrants] can't tell the difference, that's their problem," he said.

In at least one of the videos posted online by the militia, a person is heard yelling at migrants, "Policia!" or "Police," in heavily accented Spanish before detaining the border crossers. Cheney said the person yelling, "must have been one of the immigrants."
Simonson also said citizen arrests can only be made in the case of a felony and illegal entry into the US is a misdemeanor, therefore the group shouldn't be carrying out a 'citizen's arrest'.
However, Cheney contends that what they do is completely legal.
Although the group is armed, he said, they've never had the need to fire a weapon. Members of the militia instruct migrants to sit until Border Patrol agents arrive, and most of them, he said, follow their command.

"If they don't stop, we can't stop them," Cheney said. "We're not there to hurt anybody, harm anybody. We're here to help slow it down."
So, those in the militia are not actually carrying out an arrest.
Check out the demands by the governor of New Mexico as well as how Border Patrol feels about the group on the final page.