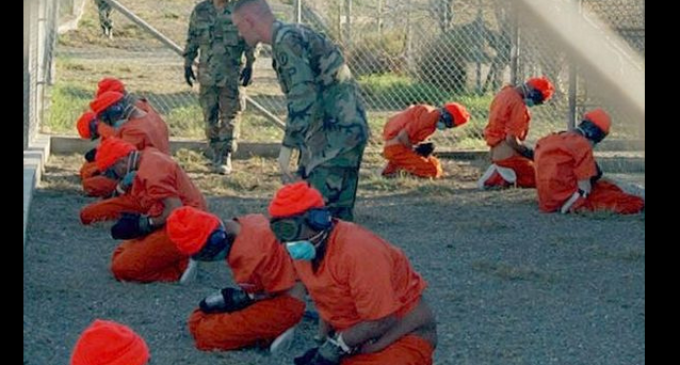 NDAA 2015 bill passed the House last month, and Senators have included some nasty provisions, which includes Gitmo-style detention facilities RIGHT INSIDE THE US, it seeks to block the courts from hearing how prisoners are treated and seeks to continue the indefinite detention policy even after the Afghan war winds down.
Rep. Adam Smith (D-Wash.), the top Democrat on the House Armed Services Committee, tried to include an amendment that would end indefinite detention of any "terrorists" captured in the U.S. or its territories, but the amendment was struck down by a vote of 191-230.
Yes, they still want to be able to declare anyone a terrorist and 'disappear' you if they so chose.
A new report from Amnesty International details how Obama wants to retrofit a prison into a Gitno-style facility in Illinois to house detainees waiting for trial.
An excerpt from the report:
It is unsurprising that the Obama administration takes this position given that it previously proposed, as part of its plan for closing the Guantánamo detention facility, purchasing and refitting Thomson Correctional Center in Illinois for detention in military custody of Guantánamo detainees awaiting trial by military commission or in federal court, those whom the USA determined it could neither prosecute nor release, and those awaiting transfer or release.Congress blocked such proposals. The establishment of "Guantánamo North" is still on the cards, this NDAA report would seem to be saying, if the administration has its way.
Will Obama ever make good on his promise to close Gitmo? Sure, but only after:
– It's insured that the prisoners there don't get a trial here when then bring them into the US
– Sufficient preparation has been made to bring these types of facilities to a town near you, starting in Illinois
It seems that the FEMA camps are mostly to be used for families and re-education centers. These new detention centers will serve to house you more hardened patriots and conservatives.
The Senate has yet to schedule floor time for the bill.
Top senators thought you wouldn't notice. Behind

closed

doors, they wrote up new indefinite detention and Guantánamo provisions in the annual defense policy bill, and then waited 11 days to quietly file the bill.

But we now have the bill, and everyone can read it. And everyone should understand what is in this new National Defense Authorization Act (NDAA) before the full Senate makes a big mistake and paves the way for Guantánamo-style indefinite detention being brought to the United States itself.

The new Senate NDAA:

Brings Indefinite Detention to the U.S. Itself: The bill now says that detainees may be brought to the United States for "detention pursuant to the Authorization for Use of Military Force" (AUMF). In plain English, that means the policy of indefinite detention by the military, without charge or trial, could be carried out here at home. Right now, the number of people in the U.S. in military indefinite detention is zero. If the bill is enacted, that number could immediately jump to 100 or more.

Bolsters Claims of NDAA and AUMF Indefinite Detention Authority: The AUMF is the basis for the indefinite detention authority included in the NDAA that Congress passed nearly three years ago. Indefinite detention is wrong today and certainly cannot be sustained past the end of U.S. combat in the Afghan war. But passing a new Senate NDAA that relies on detention authority based on the AUMF, just as the U.S. combat role in the war is winding down, could be used by the government to bolster its claim that indefinite detention can just keep on going. Even when any actual U.S. combat is over.

Requires Report on Even More NDAA and AUMF Indefinite Detention Authority: As if the government didn't already have enough claims of indefinite detention authority, the Senate NDAA asks the administration to let Congress know what more indefinite detention authority it wants.

Tries to Strip Federal Courts of Ability to Decide Challenges to Harmful Conditions: In a stunning provision, the Senate NDAA tries to strip federal courts of their ability to "hear or consider" any challenge related to harmful treatment or conditions by detainees brought to the United States. This provision tries to gut our system of checks and balances by cutting out the courts.

Violates Supreme Court Decision by Stripping Habeas Rights from Detainees Left at Guantánamo: In a classic example of why it is never a good idea for a committee to legislate behind closed doors, the Senate NDAA includes language inadvertently stripping habeas rights from any Guantánamo detainee who is not moved to the United States. Habeas is the very fundamental protection of being able to have a judge decide whether it is legal or illegal to hold someone in prison. While this is almost certainly the product of sloppy drafting, the result squarely contradicts the Supreme Court's decision in Boumediene v. Bush, in which the Court said Guantanamo detainees have a constitutional right to habeas.

Blocks Most Cleared Detainees from Going Home: The Senate NDAA would block the transfer home of the vast majority of cleared detainees by imposing a blanket ban on transfers to Yemen, instead of continuing to allow the secretary of defense to make decisions on an individual basis. That would mean dozens of detainees cleared for transfer would remain trapped in limbo.

There is a right way and a wrong way to close Guantánamo. Charging and trying in court anyone who committed a crime – and sending anyone who isn't charged with a crime back home or to another country – is the right way to close Guantánamo. Simply moving all of the bad Guantánamo policies to the U.S. itself is the wrong way.
The House on Thursday passed the 2015 National Defense Authorization Act despite a veto threat from the Obama administration over treatment of detainees.

Passed 325-98, the legislation would authorize $521.3 billion for base national defense programs. Lawmakers considered more than 100 amendments that included closing the detention facility in Guantánamo Bay, Cuba, and cutting funds for a nuclear control deal with Russia.

The legislation encountered controversy earlier in the week when amendments to the bill that would allow illegal immigrants to serve in the military in exchange for green cards and an additional round of base closures were not allowed the chance for debate on the House floor.

House Armed Services Committee Chairman Buck McKeon (R-Calif.), who is retiring, said the legislation would support national defense programs without curtailing operations.

"The bill provides our war fighters, veterans and their families with the care and support that they need, deserve, and have earned," McKeon said. "The legislation guards against achieving false short-term savings at the expense of vital long-term strategic capabilities."

But Rep. Adam Smith (D-Wash.), the top Democrat on the House Armed Services Committee, said the legislation didn't go far enough. He filed an amendment to authorize military base closures, which the Pentagon has insisted would help save money. But lawmakers have been reluctant to allow base closures that would cost jobs in their districts.

"During general debate yesterday, a couple people commented they liked the bill for a variety of different reasons and said it made some tough choices, and I asked a couple times to name one," Smith said. "I don't believe we did make a tough choice. When you look at the issues that we face in terms of the budget, we ducked every single one of them."

The measure allows for a slight increase in troop pay at 1.8 percent, but freezes pay for general and flag officers. It would further prevent cuts to TRICARE, which provides health benefits for service members, and military housing allowances.

Another provision would prohibit transferring Guantánamo Bay detainees to the U.S. and constructing terrorist detention facilities on American soil.

Smith offered an amendment to close the detention facility by 2016, but it failed 177-247.

The White House threw its support behind Smith's amendment, as President Obama has called for closing the Guantánamo Bay prison since his first campaign for president.

"By eliminating unwarranted and burdensome restrictions relating to the transfer of Guantanamo detainees, his amendment would further our efforts to move past this chapter in U.S. history," White House press secretary Jay Carney said in a statement.

Smith offered another amendment that would prohibit indefinite detention of terrorists captured in the U.S. or its territories, but it was rejected 191-230.

The White House further issued a veto threat against the legislation, partly due to the restrictions regarding detainees. In a statement of administration policy, the White House also said the limitations on compensation reform and retiring weapon systems constrained the Pentagon's ability to save money and streamline programs.

But Republicans said the Guantánamo Bay facility should remain open to avoid transferring terrorist suspects to the U.S.

"Guantánamo Bay is safe and the most appropriate location for detainees to be held," said Rep. Brad Wenstrup (R-Ohio).