The decisive 34th commitment for Obama's ruinous Iran deal came from Maryland Democrat Barbara Mikulski, who is retiring next year after three decades in the Senate, and therefore takes no responsibility for her actions. In a statement she said "no deal is perfect, especially one negotiated with the Iranian regime." But she called the pact "the best option available to block Iran from having a nuclear bomb." An amazing statement since no one, even the negotiators, fully know what is in the provision.
Supporters now have the votes in hand to uphold Obama's veto, if one becomes necessary, of a resolution of disapproval Republicans are trying to pass this month. GOP lawmakers who control the House and Senate ardently oppose the agreement, which curbs Iran's nuclear program in exchange for hundreds of billions of dollars in relief from international sanctions.
So, with the coming disaster in mind, here is the list of the 34 U.S. Senators who have pledged to NOT override Obama's veto on a Republican plan to kill the Iran deal: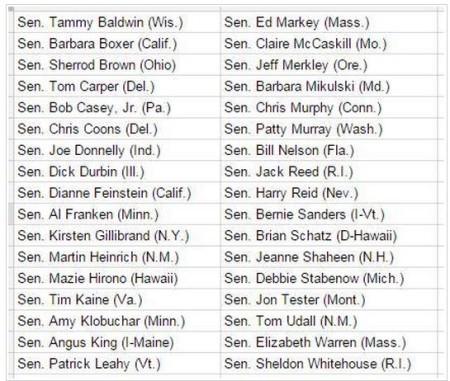 Remember them.