The FBI claims it has been investigating reports of mysterious, late-night booms taking place all over the country. Although these booms began some 10 years or so ago, since 2017 there has been a great uptick in reports.
Here's a sampling of reports from 2017-2021:
Kimberly Kempke, a concerned resident from Anderson Township in Cincinnati, Ohio, is convinced the sounds she heard earlier this week were more than fireworks.  "The sounds were like true booms. They sounded like a powerful explosion," said Kempke. "It's unlike anything I've ever seen or felt before and I've been very up close with fireworks many times."
According to The Daily Star, YouTube channel secureteam10, run by Tyler Glockner, claims that the unexplainable sounds are coming from underground.
He also revealed that just days ago a seismograph recorded something moving from the east to the west coast of the US in just 19 seconds.  And since he has uploaded it, viewers have been quick to speculate that something is secretly going on below the surface.
One month in 2017, mystery "trumpet" sounds in New York left residents convinced a secret tunneling program had commenced.  And before that, we saw similar scenes in Ohio.  The odd booms have been heard in Pennsylvania too, and even triggered an FBI investigation.  Read more below:
The booms seem to be returning en masse.  Most sound metallic in nature; almost as if a giant machine is doing something or a large piece of sheet metal is being hammered. Listen to them all yourself and see what you think.  Is the government building secret shelters underground to protect the elites in preparation for World War 3? Could it be something else?
In the video below, the narrator speculates that it could be a massive earthquake of apocalyptic proportions coming:
Similar noises have been reported 64 times in 2018, in locations throughout the United States.
When the one in Alabama happened last year, the Birmingham National Weather Service tweeted this: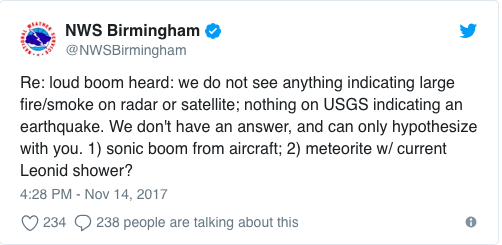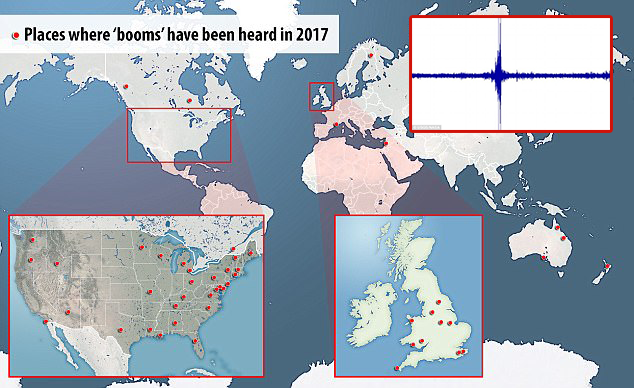 Here's a complete list of where the booms were reported in 2017, an extraordinarily high year:
November 18 – Michigan
November 19 – Damascus – caused by airstrikes
November 17 – Lapland – caused by meteor
November 15 – Idaho
November 14 – Alabama
November 8 – Tennessee
November 4 – Oregon
November 3 – Minnesota
November 1 and 2 – New Jersey and San Diego
October 27 – Eyre Peninsula – caused by meteor
October 25 – New Jersey
October 20 – British Columbia
October 17 – North Carolina
October 10 – Detroit
September 25 – St Ives
September 22 – Temple Terrace, Florida
September 17 – Maryland, Pennsylvania, New York, Virginia, Delaware, New Jersey, Ohio and Massachusetts – caused by meteor
September 7 – Moranbah, Australia
May 30 – Tauranga, New Zealand
May 26 – Kent
May 24 – Texas
May 19 – Massachusetts
May 16-17 – Lincolnshire
May 13 – Ontario – caused by earthquake
May 12 – Tennessee
May 11 – Abergavenny, Wales
May 7 – Florida – caused by secret military mission
April 25 – San Diego
April 17 – Michigan
April 15 – Michigan
April 9 – Maine
April 3 – Texas
March – Vermont
March 27 – Cornwall
March 26 – Arizona
March 25 – Gordonvale, Australia
March 22 – Wisconsin
March 13 – Virginia – caused by earthquake
March 12 – New York
March 11 – Kentucky
March 5 – Montreal
March 2 – Nottingham
February 27 – Louisiana
February 13 – Ohio
February 12 – Indiana
February 10 – Pennsylvania
January 30 – New Orleans
January 30 – Washington D.C
January 29 – Maryland
January 24 – San Diego
January 20 – Swansea
January 19 – New Orleans
January 18 – North Carolina
January 17 – Canterbury
January 16 – Beddgelert, Wales
January 16 – Greater Manchester
January 13 – Marseilles
January 12 – North Yorkshire
January 6 – Louisiana
January 6 – Oregon
January 5 – Liverpool
January 4 – Missouri
January 4 – Washington
January 3 – Connecticut
2018 in Denver:
2018 in Pennsylvania:
2018 in Detroit:
2019 in South Texas:
Move to the next page for videos from 2020-2021