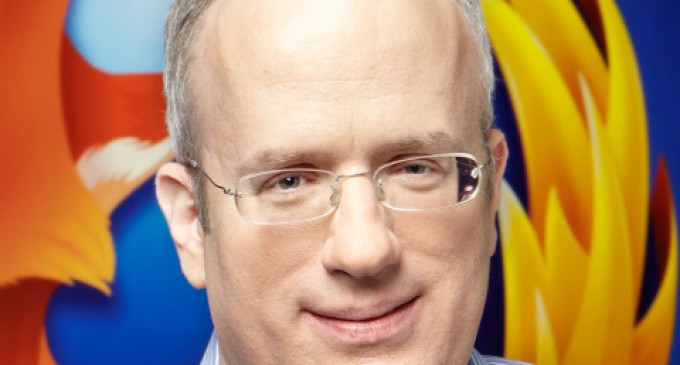 Mozilla co-founder, Brendan Eich, resigned as CEO this week due to a $1,000 donation he made in 2008 in support of the ballot measure to ban gay marriage.
What do you think? Should this man have been made to step down for exercising his personal views, even away from his company?
Gay rights proponents want tolerance and 'equal rights' for their 'diversity', but are we actually speaking of 'diversity' if nobody can speak out or exercise their personal views to the contrary?
When, if ever, should political correctness trump personal rights?
Should those that hold a position of power, such as CEOs, be considered special cases and limited in exercising their personal views?
Brendan Eich, the well-known techie who has gotten swept up in a controversy about his support of California's anti-gay marriage law Proposition 8, is resigning as CEO of for-profit Mozilla Corporation and also from the board of the nonprofit foundation which wholly owns it.

Mozilla confirmed the change in a blog post.

"Mozilla prides itself on being held to a different standard and, this past week, we didn't live up to it. We know why people are hurt and angry, and they are right: it's because we haven't stayed true to ourselves," read the post, in part. "We didn't act like you'd expect Mozilla to act. We didn't move fast enough to engage with people once the controversy started. We're sorry. We must do better."

In several interviews this week, Eich had insisted that he would not step down from the job he was only recently appointed to, due to the intense backlash over a $1,000 donation he made in 2008 in support of the ballot measure to ban gay marriage.

"So I don't want to talk about my personal beliefs because I kept them out of Mozilla all these 15 years we've been going," he said to the Guardian, for example, yesterday. "I don't believe they're relevant."

Not so, of course. In an interview this morning, Mozilla Executive Chairwoman Mitchell Baker said that Eich's ability to lead the company that makes the Firefox Web browser had been badly damaged by the continued scrutiny over the hot-button issue, which had actually been known since 2012 inside the Mozilla community.

"It's clear that Brendan cannot lead Mozilla in this setting," said Baker, who added that she would not and could not speak for Eich. "The ability to lead — particularly for the CEO — is fundamental to the role and that is not possible here."

She said that Eich — who created the JavaScript programming language, among other prominent computing achievements — had not been forced to resign by her or others on its board, which includes prominent Silicon Valley entrepreneur and investor Reid Hoffman.

"I think there has been pressure from all sides, of course, but this is Brendan's decision," Baker said. "Given the circumstances, this is not surprising."

Indeed, those circumstances included vocal protests on Twitter by Mozilla staffers and a call by the OkCupid dating site to not use Firefox.

The controversy has been a difficult one for Mozilla, which could be described as more of a movement than a tech company and which has a very vocal community around it.

It has also resulted in scrutiny of its governance, in which Baker and also Eich — who have worked together for 15 years since founding Mozilla on deeply held beliefs over the development of an open Internet — played a big part.

In addition, three of Mozilla Corporation's board members — former Mozilla CEO and current Greylock Partners VC John Lilly, former Mozilla CEO Gary Kovacs and well-known tech exec Ellen Siminoff — have recently resigned.

But each of their departures seems to have been only tangentially related to Eich's appointment — though none of them supported his selection as CEO, according to numerous sources, for other reasons — and not to the controversy over Prop 8.

Baker said that she had not known about Eich's views on gay marriage throughout most of their working relationship, until the donation came to light last year.

"That was shocking to me, because I never saw any kind of behavior or attitude from him that was not in line with Mozilla's values of inclusiveness," she said, noting that there was a long and public community process about what to do about it in which Eich, then CTO, participated. "But I overestimated that experience."

Baker — who became emotional at one point during the interview — noted that she was "doing a fair amount of self-reflection and I am wondering how did I miss it that this would matter more when he was the CEO."

Preserving Mozilla's integrity was paramount, she said, especially since "we are heading into a period of global mass surveillance and the role of those fighting against will be more important than ever."

She added: "This is hard since Brendan is a founder and has contributed so much here. But making sure others continue to join and support Mozilla's efforts is even more important."

Baker said there was not another leading candidate for the CEO role as yet, although Mozilla had been conducting an extensive search using Spencer Stuart before the Eich selection, which also included another internal candidate, Jay Sullivan.

"There are certainly very talented people we have talked to, so we are not at ground zero by any means," she said. "But we are now in the middle of what is clearly a crisis, and this had to happen."

A crisis indeed, not helped much by a series of Eich interviews this week, in which he declined to apologize and used what can only be described as pretzel logic about how a clearly tolerant community like Mozilla should also support what many now consider intolerant beliefs.

Eich told the Guardian, for example: "So far we've been able to bring people together of diverse beliefs including on things like marriage equality. We couldn't have done this, we couldn't have done Firefox One. I would've been excluded, someone else would've been excluded because of me — I wouldn't have done that personally, they'd have just left. So imagine a world without Firefox: not good."

He also dragged in a truly bizarre point about people in Indonesia not liking gays marrying to justify his continued leadership. He noted to the newspaper that LGBT marriage was "not considered universal human rights yet, and maybe they will be, but that's in the future, right now we're in a world where we have to be global to have effect."

(Hey Brendan, does that mean we need to just say bygones about some of the virulent anti-women sentiments and laws in some countries, since it's a Firefox world after all? No, I did not think so.)

"I think I'm the best person for the job and I'm doing the job," Eich insisted to the Guardian.

Throughout the interviews, it was not hard to get the sense that Eich really wanted to stick strongly by his views about gay marriage, which run counter to much of the tech industry and, increasingly, the general population in the U.S. For example, he repeatedly declined to answer when asked if he would donate to a similar initiative today.

Instead, he tried to unsuccessfully hedge those sentiments and, perhaps more importantly, did not seem to understand that he might have to pay the inevitable price for having them.

Thus, something had to give — and it did.

When asked about worries that the continuing controversy about Eich would have had broader impact, such as negotiations to renew a longtime lucrative contract with Google — which has been a high-profile supporter of gay rights — Baker said that while making this move aligned with that, it was not a factor in Eich's departure.

"This is more important than business relationships," she said.

Here is the full Mozilla blog post on the Eich departure:

Brendan Eich Steps Down as Mozilla CEO

Mozilla prides itself on being held to a different standard and, this past week, we didn't live up to it. We know why people are hurt and angry, and they are right: it's because we haven't stayed true to ourselves.

We didn't act like you'd expect Mozilla to act. We didn't move fast enough to engage with people once the controversy started. We're sorry. We must do better.

Brendan Eich has chosen to step down from his role as CEO. He's made this decision for Mozilla and our community.

Mozilla believes both in equality and freedom of speech. Equality is necessary for meaningful speech. And you need free speech to fight for equality. Figuring out how to stand for both at the same time can be hard.

Our organizational culture reflects diversity and inclusiveness. We welcome contributions from everyone regardless of age, culture, ethnicity, gender, gender-identity, language, race, sexual orientation, geographical location and religious views. Mozilla supports equality for all.

We have employees with a wide diversity of views. Our culture of openness extends to encouraging staff and community to share their beliefs and opinions in public. This is meant to distinguish Mozilla from most organizations and hold us to a higher standard. But this time we failed to listen, to engage, and to be guided by our community.

While painful, the events of the last week show exactly why we need the web. So all of us can engage freely in the tough conversations we need to make the world better.

We need to put our focus back on protecting that Web. And doing so in a way that will make you proud to support Mozilla.

What's next for Mozilla's leadership is still being discussed. We want to be open about where we are in deciding the future of the organization and will have more information next week. However, our mission will always be to make the Web more open so that humanity is stronger, more inclusive and more just: that's what it means to protect the open Web.

We will emerge from this with a renewed understanding and humility — our large, global, and diverse community is what makes Mozilla special, and what will help us fulfill our mission. We are stronger with you involved.

Thank you for sticking with us.