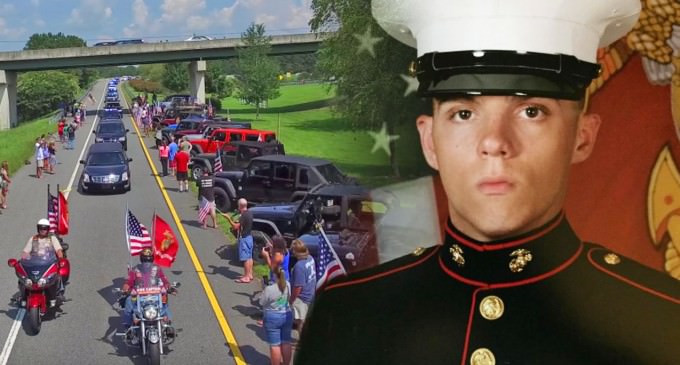 This incredibly moving, high-definition drone footage of Lance Cpl. Skip Wells' funeral procession shows just how much America loves her Finest.
Lance Cpl. Skip Wells, who was just 21-years-old, was one of the four Marines senselessly murdered on July 16 in Chattanooga. The fifth victim was a sailor, who died a few days later from injuries.
The music for the footage is Benjamin Francis Leftwich's "Atlas Hands"
RIP fallen heroes.
People are lined up and down the highway, wavingAmerican flags and showing their support for the fallen soldier.

Without a doubt, this footage will give you chills and cause a tear or two to fall. Lance Cpl. Skipp Wells was laid to rest at the age of twenty-one in Cherokee County on Sunday, July 26. He was interred with military honors at Georgia National Cemetery.

Wells gave his all for this country and will be remembered as such. "He cared more about his fellow Marines and the mission than he did his own well being," Wells' supervisor, 1st Sgt John Coyne told MyFoxAtlanta. "That's what he was doing on July 16 — disregarding his own safety so that others might survive."

Our thoughts and prayers are with Wells' family and friends and all those who have been affected by this senseless act. A big thank you to all those who serve and have served.