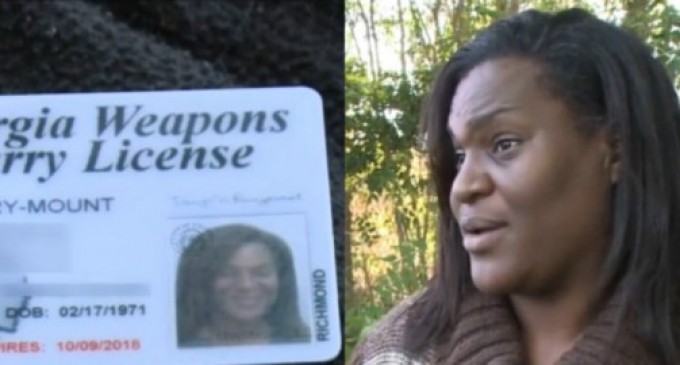 "I feel like a criminal. I want — I want to be heard. I want a public apology."
Several weeks ago Janina Dallas, the principal at McBean Elementary School in Augusta, GA, banned Tanya Perry-Mount  from coming to the school. Her reason? Tanya posted a picture of her new concealed-carry permit on Facebook. Tanya's disabled daughter goes to the school, but now Tanya is forbidden from the premises.
"She told me that instead of volunteering at the school and playing on the play ground with my daughter, I need to be at home doing grownup things," Perry-Mount told the local CBS affiliate.
Tanya asked an officer from the local board of education police what she had done wrong to deserve a trespass warning.
"The principal is scared of you. She doesn't want you on the grounds."

"I'm like, 'For what?'" the mad mom explained. "He's like, 'Were you in the army?' I said, 'Yes.' He's like, 'Do you have a concealed weapons permit?'"

Perry-Mount told him defiantly that she does have such a permit.

Meanwhile, the principal's bosses at the school district level have given Perry-Mount permission to remove her daughter from McBean and transfer her to another district elementary school.
Source: DailyCaller
Photo: WDRW Screenshots