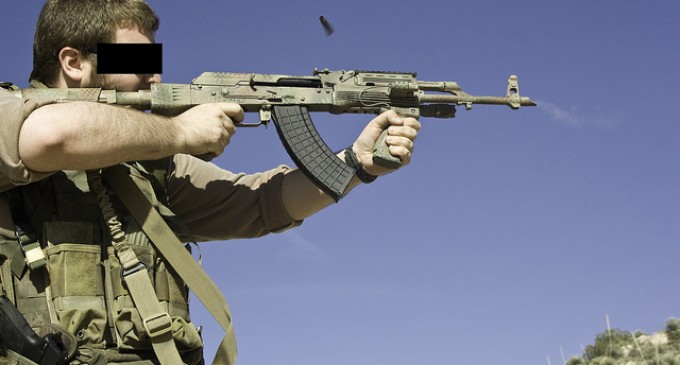 Over the weekend a coalition which identifies themselves as "Patriots" called for militia across the country to help secure the Texas border in an operation called "Secure Our Border – Laredo." 
Another similar announcement was made at FreeRepublic.com: ***ACTION ALERT*** All Texas & National Militia Available Please Converge Immediately Status GO: Mission close down Laredo Crossing for starters ((All need to be closed)) Operation complete when border fence is in place and secure Name: Love's #298 Love's Travel Stop 28527 Interstate 35, Encinal, TX 78019 (956) 948-7044 Location: I 35 & Hwy 44, Encinal, TX Distance from Encino: 93.7 miles Contact numbers: for location and or pick up 580 889 1036 423 333 8872 Militia ***ACTION ALERT*** All Texas & National Militia Available Please Converge Immediately Status GO: Mission close down Laredo Crossing for starters ((All need to be closed)) Operation complete when border fence is in place and secure Name: Love's #298 Love's Travel Stop 28527 Interstate 35, Encinal, TX 78019 (956) 948-7044 Location: I 35 & Hwy 44, Encinal, TX Distance from Encino: 93.7 miles Contact numbers: for location and or pick up 580 889 1036 423 333 8872 Militia Conference Number 24/7 For info and assistance 559 726 1300 access 639939# It's time to bring down the thunder. Activating the Patriots willing to stand up for America GO GO GO. III% Kelli in Texas USA Let's share this like the brushfires of Liberty
Make no mistake, this country is currently being invaded. There's not only the humanitarian and health crisis with all the illegal minors, but Muslim terrorists, drug cartel and gang members are also pouring in.
Marine Corps Gen. John Kelly, commander of the U.S. Southern Command, states this situation threatens US existence.
If you can help secure our border alongside or by joining a citizen's militia you should do so using the information above and help save this country!
McALLEN — A group that identifies itself as a coalition of "Patriots" has put out a call for people to go to the Texas-Mexico border and help with a citizen militia operation called "Secure our Border – Laredo."

A spokeswoman for the group, Denice Freeman, said the operation is a call for civilian militia members — both armed and unarmed — to voluntarily guard private property in the Laredo area and other Texas locations where owners feel threatened by "drug cartels and from gangs, particularly the MS-13 gangs," a Salvadoran-based gang that is considered among the most dangerous in this country by law enforcement.

Freeman said she expected militia members to become visible in border communities, including the Rio Grande Valley, in the coming weeks but she wanted to stress that the operation's commander — Chris Davis — is warning members against using any violent means.

"This is not a 'go-in-guns-blazing' kind of thing," Freeman said. "This will be handled with the utmost professionalism and security and safety for everyone involved."

However, in a 21-minute Youtube video featuring a man who identifies himself as Cmdr. Chris Davis, the person said it's time to secure the borders. "How?" he asked on the video. "You see an illegal. You point your gun dead at him, right between his eyes, and you say, 'Get back across the border or you will be shot.'"