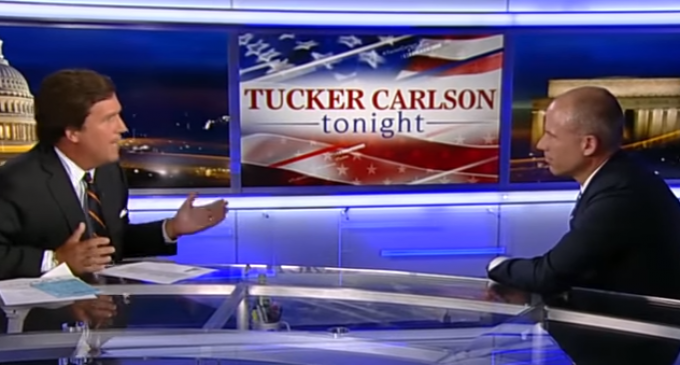 On a heated episode of 'Tucker Carlson Tonight' last Friday, Fox News host and commentator Tucker Carlson laid waste to the attention junky lawyer for Stormy Daniels, Michael Avenatti.
Carlson explained during his introduction that Avenatti has always demanded that Tucker cease calling him by "a certain, unflattering nickname" and that the only way Avenatti would come on the show is if it were not used.
"We haven't agreed to that demand, but tonight, as a gesture of goodwill, we will not use that nickname," Carlson vowed. "Because we're always grateful when guests are brave enough to show up in person, including in this case."
"We could sit here and hurl insults at each other for the segment. Already done that," Carlson told Avenatti. "I've certainly insulted you. You've insulted me. But you seem smart, so let me take you seriously as somebody who wants to be involved in the public conversation."
When Tucker said the above, a chyron appeared that read: "CREEPY PORN LAWYER TOYING WITH 2020 RUN." Then in sequence, the following chryons appeared:
"CREEPY PORN LAWYER TOYING WITH 2020 RUN."
"DOES AMERICA WANT CREEPY PORN LAWYER AS PRES?"
"STORMY'S LAWYER AS CREEPY PORN PRESIDENT?"
"TUCKER TAKES ON CREEPY PORN LAWYER."
"CPL FINALLY AGREES TO INTERVIEW WITH TUCKER"
Now Avenatti is calling Carlson a liar and criticizing Fox News for what happened.
Probably, if you read the fine print, the chyrons did not violate the agreement with Avenatti. That is something a lawyer should realize, especially a creepy porn lawyer.
Turn the page for the interview and Avenatti's challenge to Carlson after the explosive interview: