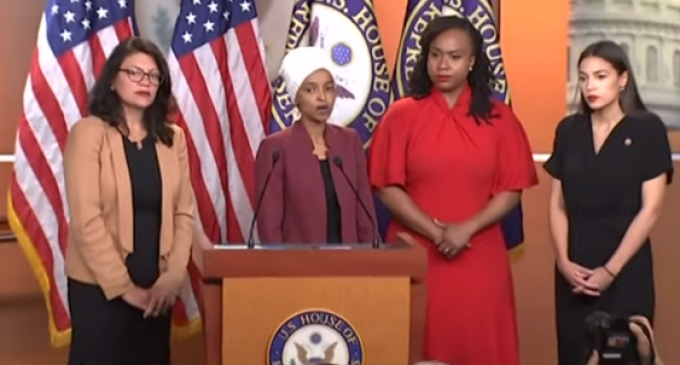 Following their rebuttal to President Trump calling them out as people who hate our country and therefore should leave, members of the Democratic 'Squad' repeatedly chose to not denounce terrorism that has occurred on American soil or the terrorists that carried out the attacks.
In the video below, you will see Rep. Alexandria Ocasio-Cortez (D-NY) twice refuse to condemn a terrorist attack committed by the left-wing terrorist group Antifa over the weekend at a migrant detention center. She also refused to comment on the question as to whether or not she felt any responsibility for the attack considering that she has called the facilities 'concentration camps' that force migrants to 'drink out of the toilet.
Also on two separate occasions, Ilhan Omar (D-MN) refused to condemn terrorism and to answer a reporter asking if she refutes President Trump's claim that she is a communist.
Have you ever witnessed a lawmaker refusing to denounce terrorism? Neither have I. President Trump went after these congresswomen with no holds barred. He stated that he wanted others in Congress who feel the same to not be afraid to speak out and he certainly set the bar on doing that. But what he also did, intentionally or otherwise, is cause these congresswomen to completely own and reveal how they truly feel about this nation for all to see.
Oddly enough, though, Omar is willing to talk about al Qaeda if she can giggle about al Qaeda, if she can equate them to the American military:
Here's the clip that Trump is referencing with Democrat Rep. Ilhan Omar (MN) where she laughs while talking about ISIS and Al-Qaeda — Islamic terror groups that kill Americans, U.S. allies, and Jews pic.twitter.com/5INfs6yiSv

— Ryan Saavedra (@RealSaavedra) July 15, 2019
This is the Democrat Party, y'all… Unmasked, violent, racist, antisemitic, and desperate to prioritize illegal immigrants over American citizens and legal immigrants.
Source: Breitbart