McDonald's is retracting a statement made on their Twitter on Thursday. Shortly after posting an anti-Trump tweet, the company deleted the post and blamed it on hacking.
A post on McDonald's corporate Twitter account caused a stir Thursday morning, denigrating President Trump and calling for Barack Obama's return. The tweet was up for about 20 minutes only — but in that time, it was liked and retweeted more than a thousand times.

"You are actually a disgusting excuse of a President and we would love to have @BarackObama back," said the tweet that was briefly pinned to the top of the McDonald's page. It concluded, "also you have tiny hands."

An early message to McDonald's seeking comment wasn't immediately answered; more than an hour after the incident, the company said that its Twitter account "was compromised."

Twitter notified us that our account was compromised. We deleted the tweet, secured our account and are now investigating this.

— McDonald's (@McDonaldsCorp) March 16, 2017

Saying that Twitter had informed the company of the breach, McDonald's adds, "We deleted the tweet, secured our account and are now investigating this."
The offending tweet certainly didn't read like others posted by the fast food giant, but few details were given other than the fact that they were "compromised." They may have been hacked by an outside source, or a rouge employee may have used the social media account to air their own grievances. Either way, this development certainly doesn't look good for McDonald's — particularly among Trump's millions of supporters.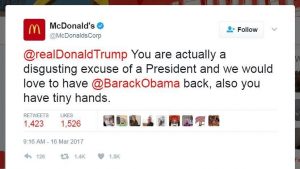 Twitter notified us that our account was compromised. We deleted the tweet, secured our account and are now investigating this.

— McDonald's (@McDonaldsCorp) March 16, 2017
Source: NPR