The documents have been traced back to a private security firm based in North Carolina called TigerSwan.
UpGuard, a California-based cyber security firm was doing a routine scan of internet files in an Amazon that was not password-protected, when they stumbled across a file named "Resumes."  To their shock, the analyst who discovered the file, realized that the unprotected data within was a matter of national security!
Within the file were the names of nearly 10,000 men and women who worked for the US government in capacities that included military and intelligence knowledge and missions.  Also included were the foreign nationals from many countries around the world who were assisting both our military and intelligence communities in information-gathering and espionage measures.
All told, the information was encompassing nearly every aspect of these individuals lives and identities!
Thousands of files containing details of US intelligence operatives with Top Secret clearance have been breached.   

The 9,402 documents were found on an unsecure Amazon server without the protection of a password.

The files, discovered this summer by a security analyst at the California-based cyber security firm UpGuard, were found in a folder called 'resumes'.

They contained the CV of thousands of Americans currently in jobs in the US Department of Defense and the US intelligence community.

They included information such as their home addresses, phone numbers, work history and email addresses, as well as more sensitive information including security clearances, driver's license numbers, passport numbers and at least partial social security numbers.
The information was even more devastating to the company that was supposed to be minding its security:  North Carolina-based TigerSwan.
Other documents revealed sensitive and personal details about Iraqi and Afghan nationals who have cooperated and worked alongside US military forces in their home countries, Gizmodo reported.

Between 15 and 20 applicants reportedly meet this criteria. They may now be endangered by the disclosure of their personal details.

One applicant described his employment as a 'warden advisor' at the Abu Ghraib black site near Baghdad, where prisoners are known to have been tortured.
While I don't agree with the assessment here by the writer stating that Abu Ghraib was a prison where people were tortured (that was a patently false claim by the Fake News Industrial Complex (FNIC) and meant to politically harm George W. Bush) the fact that the "warden advisor" was named here is as much a danger to him as it is to others who were involved in the administration of the prison.  If this man or woman who's been named is located and taken by forces unfriendly to the West and then tortured, he/she could reveal even more damning evidence of the identities of other people involved in the prison's hierarchy.
Another applicant reportedly said he was involved in 'enhancing evidence' against Iraqi insurgents during the war.

The breach also includes details of a former United Nations worker in the Middle East, a parliamentary security officer in Eastern Europe, an active Secret Service agent, a Central African logistical expert, an ex-soldier tasked with providing security in war zones for TV news crews and a police chief in a southern state.

In addition to this, the details of an Army officer tasked not only with finding WMDs in post-invasion Iraq, but with escorting a major US journalist on the hunt have been breached, as well as military and police trainers in Iraq, Afghanistan, Georgia, Liberia, Ukraine, and the Democratic Republic of Congo.
James Reese is a former Delta Force operator and retired US Army Lieutenant Colonel and set up the security company, TigerSwan, in 2007 as a service to the US government.  The breach has hit him hard, particularly since a majority of the Americans whose information was available in this unsecured fashion were veterans.
But the blame is not being placed on his own company.  Rather, Reese is blaming a vendor that the company utilized to sift through employment applications.  In so doing, the vendor whose certification was not rock solid ended up exposing this massive collection of data to just about anyone who happened across the file online.  TalentPen, the vendor that TigerSwan used, has not answered requests for statements regarding the breach.
With everything that's going on in the world today, it's ultra-important that we become even more vigilant and protective of our information, rather than just another lite version of the Democrat Party.  There's no need to reiterate the stupidity and massive ignorance that the DNC exhibited under the leadership of Representative Debbie Wasserman-Schultz when it came to protecting valuable and classified information.  The Awan brothers situation is an exclamation point to that statement.
Especially with the recent successful hydrogen bomb test by North Korea and its strong ties to trading of information with Iran, we need a person at the head of our security divisions who will put safety before politics and party.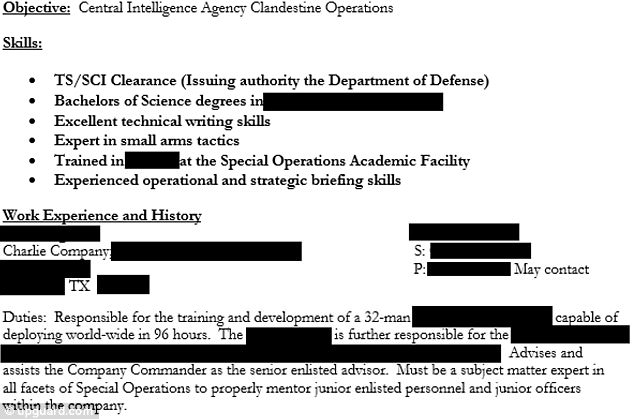 Source:  The Daily Mail