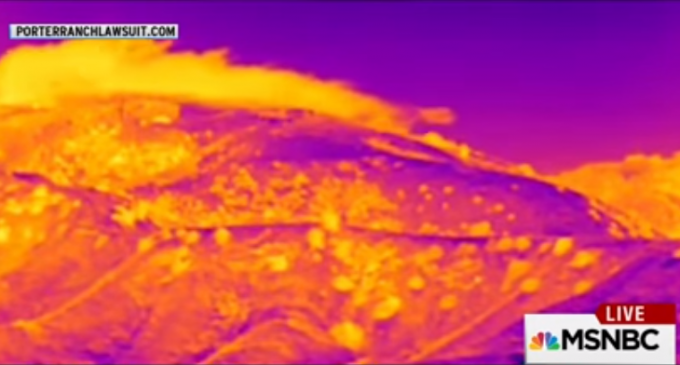 Southern California is ground zero for environmental fanatics, with laws and prohibitions that cause incalculable economic damage to the state as lawmakers regulate California towards energy bankruptcy and ruin. No matter, their hearts are in the right place! Legislation under failed governor Arnold Schwarzenegger to force cap and trade and other draconian requirements in order to "lead the way" for the rest of the world are putting a drag on the state economic recovery and forcing many business to flee to friendlier climes.
There is a new environmental disaster taking place in Southern California, with no resolution on the horizon, and the regulators don't seem to have a solution to overcome it. Natural gas is seen as a more "friendly" hydrocarbon than other sources such as petroleum or coal. It is still vilified by the "green" fanatics who insist that the United States is running out of hydrocarbons (now a proven fallacy), and that we should transition to renewable energy sources such as solar and wind, both absolutely inefficient and unable to meet the minimal needs of high population urban areas. Still, the dream lives on.
There is a huge natural gas leak in Porter Ranch, a neighboring area about 25 miles northwest of Los Angeles, that has been dumping up to 110,000 pounds of gas into the atmosphere for over two months, and engineers and specialists don't know what caused it or how to stop it. It is likely that a well casing failed deep below the surface, and it will probably take several more months to find the source and repair the damage, in part because of the extra care required to avoid igniting the gas and causing an explosion.
More on page 2: