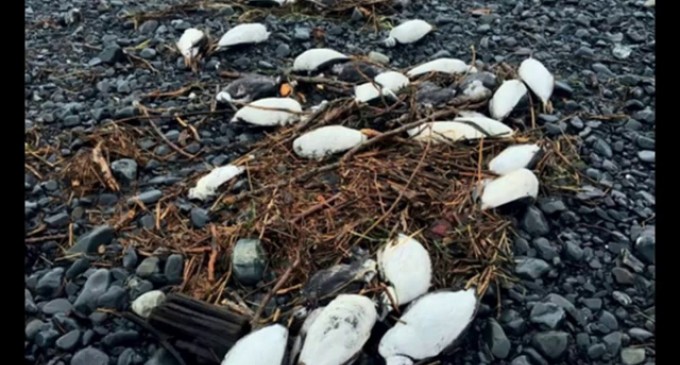 A mass of dead birds have been washing up on Alaskan beaches in the past few months in unprecedented size, scope and duration, according to a federal biologist. The species meeting its end is the common murre, a Pacific seabird sometimes compared to penguins because of their appearance, the only difference being that they're smaller, and they can fly. Because of this die-off many wildlife biologists believe that something is off in the Gulf of Alaska.
Heather Renner, a supervisory wildlife biologist at the Alaska Maritime National Wildlife Refuge told the Alaska Marine Science Symposium on Thursday that this might be the the largest murre die-off ever recorded, even dwarfing the the murres killed in the Exxon Valdez oil spill, which killed about 22,000. Now, hundreds of dead murres are showing up at many beaches off the Alaskan coast, with nearly 8,000 discovered this month, alone.
Residents can hardly walk a mile along the beach without finding a dead murre or several.
Read why this is troubling on the next page.