It was an amazing start to his presidential campaign on September 8th when he announced on Fox News Channel his exciting bid to unseat the horrible and unseemly Donald Trump. The former governor and US House member was all about the Never-Trumper bashing of the president and wasted no time joining former US House member from Illinois, Joe Walsh, and former governor of Massachusetts, Bill Weld, in making sure everyone knew how much of a reprobate Trump was and how they were the answer to defeating the Liberal agenda of the Democrat Party.
They received equal amounts of adoration from the DNC-Network Media as they did from Fox News Channel after challenging Trump, with the Democrat-run press doing glowing exposés on the candidates, secretly thinking to themselves, "If these long-shots ever get even close to unseating Trump through a primary, we can do everything in our power to pump money into their campaigns!"
Such was not to happen, though…at least not for the hapless Mark Sanford.
Conservative Review:
One of the long-shot Republican primary bids against incumbent President Donald Trump is now over with the announcement that former South Carolina governor and U.S. House member Mark Sanford is pulling out of the race.

Sanford first announced his candidacy on Fox News Channel on Sunday, September 8, saying that "we need to have a conversation about what it means to be a Republican" as well as taking aim at the party's reckless spending. Apparently, Washington Democrats' latest efforts to impeach President Donald Trump have precluded the possibility of having that conversation on the campaign trail, according to the now-former candidate.

The Charleston Post and Courier reports that Sanford announced his withdrawal from the race to a group of reporters outside the New Hampshire statehouse in Concord on Tuesday and blamed the House's impeachment probe for dominating the debate in the 2020 race, saying, "You gotta be a realist, and what I did not anticipate is an impeachment."

A campaign statement from Sanford about the decision said that "impeachment has made our goal of making the debt, deficit, and spending issue a part of the presidential debate impossible right now" but adds that he "will find other ways to advance discussion, debate and change on our unsustainable course on debt, deficits and spending."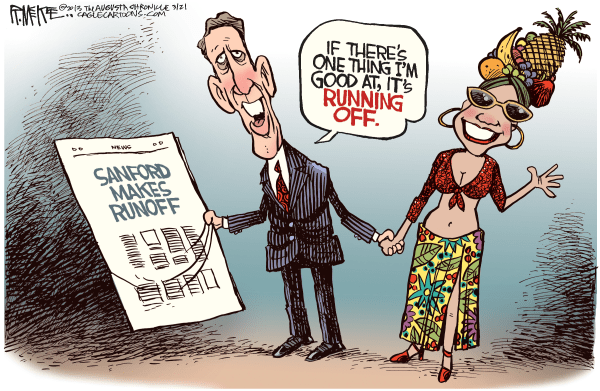 So, just to be clear, the reason that Sanford is not running anymore is because of impeachment? You would believe that this would be a perfectly good reason to continue running, right? If the president is tossed out of office for malfeasance, wouldn't it be ideal to run on a platform of less corruption?
But then, I guess, Sanford would have to delve further into his little South American excursion and extra-marital tryst, escapades I'm sure he'd rather would just dissipate.
Sort of like his candidacy.
One down, two to go.
Sources: Conservative Review
Image: Greenvilleonline.com