The video below explains how the mainstream media will let Hillary run wild spewing her words that black lives matter, but then they refuse to acknowledge the rumors that Bill has a biracial illegitimate son they have completely rejected.
Danney Williams is 30 years old, now. He is a responsible man who put himself through college and stays involved with his church.
The Inquisitr reports that his mother, Bobbie, has gone as far as taking several lie detector tests – and she has passed all of them. Danney says that he would like a DNA test, but knowing the Clintons, even if the Williams got a sample, who knows if it would be tampered with.
What makes this story even more wild is that a former Arkansas State Trooper, named Buddy Young, has confirmed that Clinton did have a relationship with Bobbie Ann Williams. Young claims that he drove Clinton and Williams to her mother's house near Hot Springs, Arkansas, in 1983 for an "intimate visit" while her mother was not even there, according to the Political Insider. Buddy Young claims that they were paid $400 each, and were even given a $50 tip.

Showbiz Spy reported that Bobbie Ann has been speaking out about her relationship with Bill Clinton. "I Bobbie Ann Williams was indeed solicited for sex by Bill Clinton in 1984 around the corner from the at the time governors mansion and met him while he was jogging. He asked if I could land 2 other women for a foursome, so I got the girls and performed the sexual acts with him." They also reported that the New York Daily News was reporting on Bill Clinton's possible secret son back in 1999. Danney Williams was just 13-years-old at the time.

There has been a lot of talk lately about whether a DNA test can and will be conducted to prove the story of Danney Williams and his mother, Bobbie Ann Williams. There is already a sample of Bill Clinton's DNA on record during the Monica Lewinsky probe while he was still in office. Many are hoping that Williams' DNA can be run against the sample collected from Bill Clinton that was compared to stains on a certain blue dress worn by Monica Lewinsky when she was a White House intern. That might not be possible anymore, and there have been reports that Clinton's DNA from the Kenneth Starr investigation may have been tampered with, but is no longer available for comparison to that of Danney Williams.

Danney hasn't given up hope, and has taken his mission to social media in hopes that he can garner enough attention to prove that Bill Clinton is his dad. On January 8, Williams pinned a post to Twitter that says, "I'm Danney Williams the son of Bill Clinton. Retweet to help me get my story out." In another tweet, Danney even compares his facial features to those of Clinton and to be honest, he looks like the biracial son of Bill Clinton. According to Danney, his mother was paid off to keep his birth quiet.
Just take a nice long look at both pictures of Danney and Bill side by side, and ask again. Is Danney the illegitimate son of Bill Clinton?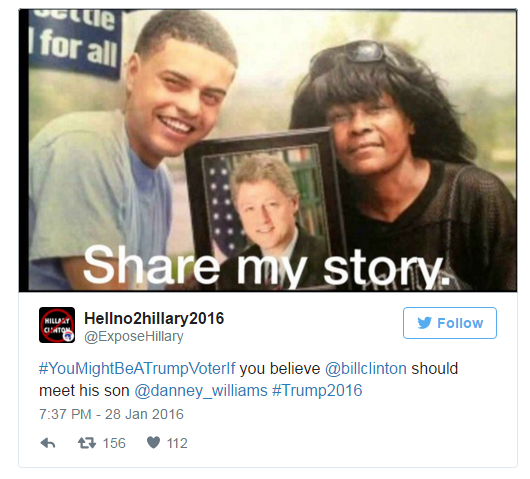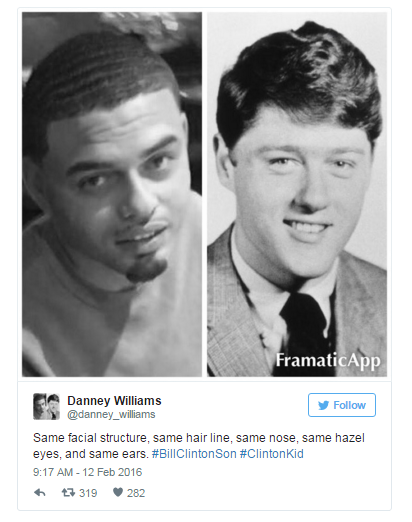 Source:Inquisitr