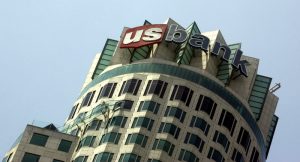 US Bank is used as an example here of some of the latest tactics in the war on cash. It should not be assumed that US Bank is the only one so doing. In fact, you might want to check out your bank's website to see what is happening with your accounts and your money.
We're making important changes for cash transactions.

At U.S. Bank we are committed to protecting your personal information. We are enhancing our process for cash transactions in order to meet regulatory guidelines for filing Currency Transaction Reports (CTRs) with the Financial Crimes Enforcement Network (FinCEN). We are now collecting additional identification information from individuals who request cash transactions. The additional information is required for most cash transactions, such as cash deposits, coin/currency orders, cash payments and check cashing.

This website provides information about this change and can be used to answer questions you may have. For more information, visit your local U.S. Bank branch.
It starts off with the usual attempt to be reassuring about all of this — hence the claimed commitment to the protection of personal information. That might be great, except it is beside the point. It's the information being collected that is the issue and concern.
Let's drill down a bit deeper at US Bank's website and see what we find in their FAQ:
Who is FinCEN and what is CTR reporting?

The Financial Crimes Enforcement Network (FinCEN) is a bureau of the United States Department of the Treasury that collects and analyzes information about financial transactions in order to combat domestic and international money laundering, terrorist financing, and other financial crimes.

A currency transaction report (CTR) is a report that U.S. financial institutions are required to file with FinCEN for each deposit, withdrawal, exchange of currency, or other payment or transfer, by, through, or to the financial institution which involves a transaction in currency of more than $10,000. Multiple currency transactions must be aggregated, and a CTR is required, if the financial institution knows or has reason to know that the multiple transactions are by or on behalf of any person and result in either cash-in or cash-out totaling more than $10,000 in one business day.

Do all banks have this requirement?

Yes. This is a requirement of FinCEN, and all banks are required to comply with the regulation.

Why am I now being asked for my personal information when you never asked for it in the past?

We are committed to protecting your personal information and complying with laws and regulations Federal law requires us to report currency (cash or coin) transactions conducted by, or on behalf of, one person, that aggregate to be over $10,000 in a single day. To comply with this law, U.S. Bank must obtain personal information about any individual requesting (conducting) cash transactions.
Part of this is intended to expose the "underground economy" which consists of cash-based businesses that don't report all of their income and hence evade income taxes.
But it is also more insidious as the government insists on keeping a record of what its citizens are doing with their money. Credit and debit cards work great for their purpose as a record of every single transaction is recorded. Cash is a problem, and it's one the government aims to "fix."
Be prepared for even more financial regulation of cash. "For your own good," of course.
Source: US Bank
Image: Uvisor