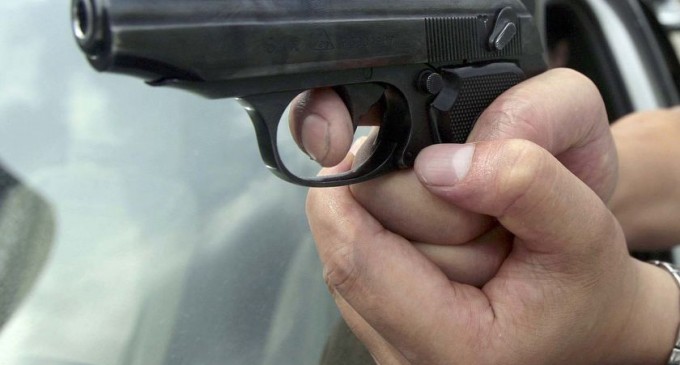 Warren E. Tolman, who's running for attorney general in Massachusetts, has called for use of fingerprint technology on all newly manufactured guns sold in the state.
And, he states that he can get this enacted without any new legislation.
Essentially, he would like all guns to be unusable to those who didn't purchase the gun as it would only become 'unlocked' with the owners fingerprints and feels he can make this a requirement without due process of lawmaking.
BOSTON — In what is the latest wrinkle in gun control controversies expected to emerge among three Democrats running for attorney general, former state Sen. Warren E. Tolman has called for use of fingerprint technology on all newly manufactured guns sold in the state, as a way of preventing use of stolen guns by criminals.

Mr. Tolman is facing Maura Healey, a former state prosecutor and special assistant district attorney in Middlesex County with extensive experience with gun crime; and state Rep. Harold P. Naughton, D-Clinton, who, as chairman of the House Public Safety Committee, is drafting a broad new gun control measure expected to be unveiled next month.

Fingerprint-locked guns, also called smart guns, are already available. Mr. Tolman argued that the attorney general could issue regulations allowed under existing law to require new guns sold in the state to have the safety devices, without requiring any action by the Legislature or changing state law.

"Just as your fingerprint can be used to unlock your iPhone, fingerprint technology can be used to ensure only the rightful owner is able to fire a gun," Mr. Tolman said in a statement proposing a change in law to mandate the locks. "This would help take the guns out of the hands of criminals who steal them. It would protect us from the tragedy of children and teens who accidentally or by choice are killed by guns left unsecured in the home."

Moreover, Mr. Tolman said, the mechanisms would also save lives of police. He said 17 percent of police who die on duty are killed by criminals who get control of the officer's gun.

Like many new gun control measures, requirements for fingerprint-lock guns are opposed by the National Rifle Association and some other groups because they are seen as a way of further controlling gun ownership.

Various requirements for gun locks are among many issues expected to come up as the Legislature has promised to take up a major overhaul of the state's gun laws in January.

Mr. Naughton brought his committee to hearings across the state this year, including a well-attended hearing in Worcester last summer, to gather public views.

Some of the more difficult and controversial issues expected to emerge are proposals for new limits on ammunition and high capacity gun magazine, types of criminal or mental health background checks for gun licenses and gun purchases and limits on the number of firearms a person can buy.

More than 50 gun bills have been filed in the two-year session that ends July 31, but Mr. Naughton and House Speaker Robert E. DeLeo, D-Winthrop, are both pledging to put a comprehensive gun bill before the House.

Mr. Naughton expressed frustration earlier this year over a lack of action in Washington, D.C., to require mental health background checks in the aftermath of the Newtown, Conn., elementary school massacre one year ago.

Ms. Healey said Tuesday people in the state do not want to wait any longer for government action to address "the scourge of gun violence on our streets and in our communities" and that Massachusetts should not wait for Congress to act

"I applaud Gov. Patrick and legislators who have put forward thoughtful ideas to make our communities safer, keep guns out of the hands of those who are going to do harm and better support those living with mental illness," Ms. Healey said in a statement.

"As Attorney General, I will do everything in my power to reduce gun violence, using all our tools — civil and criminal — to the full extent possible,"

Mr. Tolman said the state's consumer protection statute allows the attorney general to regulate firearms to protect citizens from harm and that law has been used in the past to protect consumers from fraud and dangerous toys.

Tolman campaign spokesman Chris Joyce said he expects gun safety issues will be a major issue in the attorney general campaigns.

"That is why we are putting it out there as the first issue we are talking about in this campaign," Mr. Joyce said.