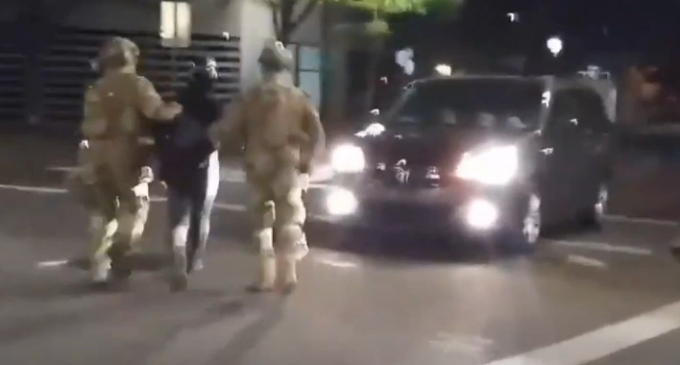 Portland city officials on Friday demanded the Trump administration remove what they called a heavy-handed army of federal agents who have been grabbing protesters off the streets and throwing them into unmarked vehicles.
Portland Mayor Ted Wheeler called the agents President Trump's "personal army."
"This is part of a coordinated strategy of Trump's White House to use federal troops to bolster his sagging polling data, and it is an absolute abuse of federal law enforcement officials," Wheeler said. "As we were starting to see things de-escalate, their actions last Saturday night and every night since have actually ratcheted up the tension on our streets."
House Speaker Nancy Pelosi tweeted: "Unidentified stormtroopers. Unmarked cars. Kidnapping protesters and causing severe injuries in response to graffiti. These are not the actions of a democratic republic. @DHSgov's actions in Portland undermine its mission. Trump & his stormtroopers must be stopped."
First Amendment speech should never be met with one-sided violence from federal agents acting as Trump's secret police, especially when unidentified. This is disgraceful behavior we would expect from a banana republic — not the government of the United States.

— Nancy Pelosi (@SpeakerPelosi) July 18, 2020
Move to the next page for videos of the alleged 'snatch and grabs' as well as protesters complain about being assaulted by these federal agents.