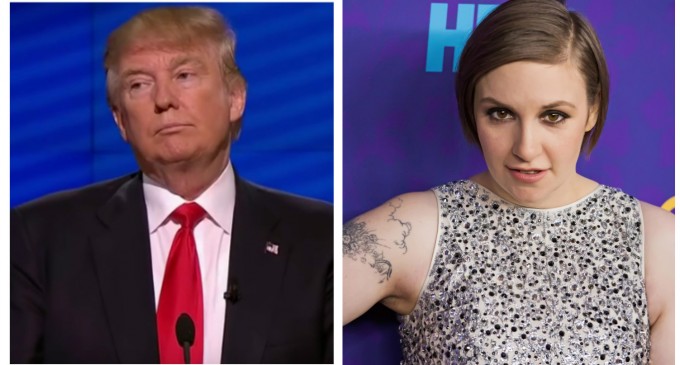 Liberals often accuse people — mostly straight white males — of having boundless "privilege" that puts them at the front of the line in every aspect of life.  The most common chorus coming from the left is regarding white privilege — though they usually fail to mention just what tangible privileges white people have.
But is there anything more privileged than a bunch of rich liberal Hollywood elitists proclaiming that if the presidential candidate they like doesn't win in November, they're going to pack up and move to Canada?
Well, that's exactly what has been happening since Donald Trump announced his bid for the White House last summer.  Rosie O'Donnell, Whoopi Goldberg, John Stewart, Cher, Samuel L Jackson, Raven-Symoné, and oh yes, the good Reverend Al Sharpton have all announced they will flee to our neighbor to the north if the real estate mogul and GOP frontrunner becomes our 45th president.
Now, Girls actress and militant feminist Lena Dunham has joined the gaggle of celebrities who plan on heading to Canada if Trump is elected.
Wait, is this supposed to deter people from voting Trump?
To read what Dunham had to say, as well as watch Donald Trump's predictably hilarious response, continue reading on the next page: