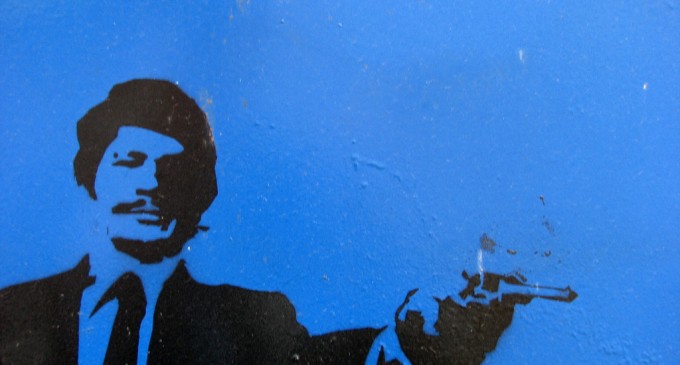 Three thugs were tailing a man in the Bronx on Thanksgiving day, aiming to play the Knockout Game with him when they saw him pull into an alley.
As they rounded the corner they met him and his .45 magnum face-to-face. The man shoots 2 of them in the foot and pistol whips the other.
Police are asking for assistance with locating the vigilante.
The Knockout Game has already killed 7 people.
In the early hours of Thanksgiving morning, three Bronx thugs who were out for a game of "Knock Out" with what they thought was an unsuspecting victim, a white male in his late fifties to early sixties, got more than they bargained for.

The three men, all in their early twenties, were trailing the man down Morris Park Avenue, heading toward Williams Bridge Road when their prey veered into an alley way. They followed him into the alley and around a sharp, dark bend, only to find the barrel of a .45 magnum waiting on them. Two of them men were shot in the foot and the third was pistol whipped. Authorities nearby responded to 911 calls reporting the gunfire and called for ambulances. The men were taken to nearby Calvary Hospital where they were treated and released.

The men were not charged, but authorities are asking anyone who has any information on the individual who shot two of the men and pistol whipped the third to come forward. He is described as a white male, approximately late fifties to early sixties. He is approximately 5'10″ and 165 pounds.

Police fear a vigilante may be on the loose, intentionally inviting wayward youth into playing the new "knock out" game for the intent purposes of maiming, or perhaps even killing them.

The knock out game is played when small to medium-sized groups of black youth seek out lone whites to attack and beat. They attempt to knock them out in the first punch. If this happens, the game is over. However, if the victim survives the first punch, the group sets upon them and pummels them profusely.

So far there have been seven known deaths as a result of the knock out game. Authorities and main stream media alike refuse to call the game a hate crime or even admit that race is an issue.