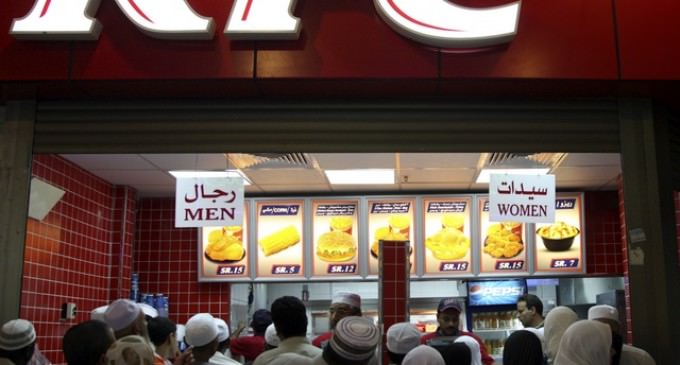 A KFC customer in the UK was quite shocked when he was refused a hand wipe because it contains alcohol, which is against Islamic Law, so it might offend their Muslim customers.
The customer, Graham Noakes, tried to explain that he 'liked the alcohol', but was still refused the wipe.
Although one Muslim Organisation has called the decision "bizarre", it appears they didn't go so far as to inform the KFC that it was ok to hand out the wipes.
Muslims make up about 4.4% of England's population. As this number increases, of course, you can expect the influence on culture to increase.
We just posted a story of a couple that was kicked off a bus in the UK because they sang a song about a pig to their child, that offended a Muslim woman on the bus.
"I will never be going to KFC again."

The father-of-two added: "I've never experienced anything like this before, I couldn't believe it.

"Why shouldn't I be allowed a wipe for my hands?

"They use wipes in hospital, what happens when we start being told we can't have wipes there?

"I just can't understand it."

Graham, who lives in Birmingham, is working in Leicester on the construction of a new Muslim community centre in Highfields.

Halal is the Arabic word for 'lawful' and relates to what is allowed in the context of Islamic law, but is often used in conjunction with the issue of how meat is dealt with.

Suleman Nagdi, spokesman for the Leicester-based Federation of Muslim Organisations, said: "I know alcohol is prohibited in the Muslim community, but I don't understand why you can't use hand-wipes – there's nothing wrong with it.

"Using alcohol doesn't mean you're consuming it.

"It seems like an unusual decision to be made.

"In fact, it sounds bizarre."

Suleman said such decisions potentially provoked some people to start "lashing out" at the Muslim community.

"I've never come across anything like this before," he added.

"KFC have made a commercial decision to do this, and now the Muslim community will face backlash."

A KFC spokesman said the company had been running a halal trial since 2010, in "areas where there has been demand from our customers", such as the restaurant in St George's Retail Park.

He said that as a result "a small number of products from our usual menu are not available", and in addition the St George's branch had decided not to stock wet wipes that contain alcohol".