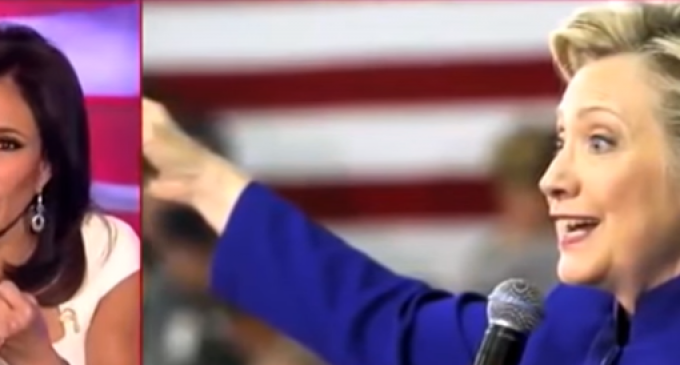 Hillary would be headed to prison if Judge Jeanine hears her case, as the preponderance of evidence is overwhelming.  Judge Jeanine's verdict is guilty.  The following is the case built by Judge Jeanine, based on the many different US Codes that Hillary Clinton has violated as Secretary of State, many of them being felony and misdemeanors violations.
"I believe that you will agree that there is evidence she (Hillary) violated the law ans that she cannot and must not become President of the Untied States," stated Judge Jeanine in her opening statement on Fox' Justice.
Step by step, Judge Pirro lays out her case.  "Hillary decided to conduct State Department business not on a State.gov but on a personal email, in service by a server in Westchester home.  The reason? Convenience.  Why carry all those pesky Blackberries?"
"But has she been truthful?  Fact: January of 2009, confirmed as Secretary of State, she is responsible for making and preserving State Department records under the Federal Records Act of 1950.  A few months later the regulations are updated, requiring that if someone uses a non-agency email they must ensure they are preserved.  (CFR 12:36.22).
Fact: Nine days after the Benghazi attack in 2012, Congress seeks all information related to the attack but nothing is handed over by Hillary or the State Department.
Fact: While the State Department is receiving thousands of Foyer requests by the courts, the press and citizens like you, State Department lawyers swear there is nothing of Hillary's to provide and take no steps to preserve or even asked her for records.
Read all the Facts and view the video on the next page.