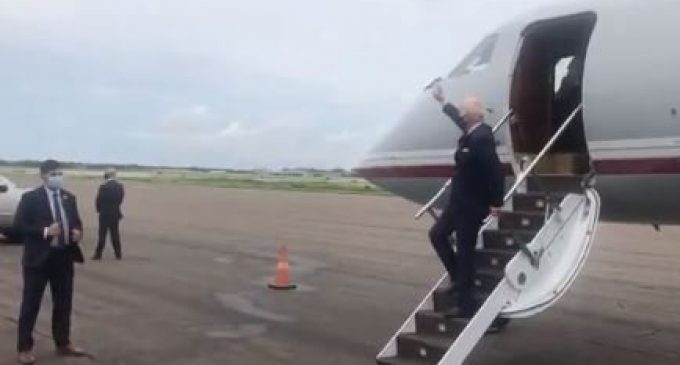 You can be guaranteed that if the mainstream media shows footage of Biden departing the plane in Tampa on Tuesday it will only contain close-ups. Personifying the "a legend in his own mind" cliche, the 77-year-old was caught waving to an empty field after he landed.
Biden held a veterans roundtable event in Tampa.
This is who greeted the presidential hopeful: Trump supporters waving 'Trump 2020' flags, holding signs that said "Socialism Destroys Freedom."
One must wonder WHO exactly he saw when he left for Tampa – Trump supporters lined the streets to greet Biden ahead of his arrival in Tampa, Florida. There were ZERO Biden supporters, save the ones he might have seen in his mind.
Dozens of Trump supporters lining the road to HCC in #Tampa, where Democratic presidential nominee Joe Biden will be meeting for a roundtable discussion with veterans this afternoon. Details beginning at 5 PM @10TampaBay pic.twitter.com/7ao1tZKP9A

— Eric Glasser WTSP (@EricGlasserWTSP) September 15, 2020
After the roundtable, Biden pandered to the Latino community in Kissimmee, Florida by playing the 2017 hit song Despacito.
Democratic presidential nominee Joe Biden turned to music to try to connect with Hispanic voters in the must-win state of Florida, before an interview with Telemundo in which he promised amnesty to immigrants in the country illegally.

During a rare, in-person campaign event in Kissimmee, Florida, Tuesday evening, the former vice president played the reggaeton hit song "Despacito" from his cellphone upon taking the stage as the night's keynote speaker.

The event was meant to celebrate Hispanic Heritage Month.

The moment happened when Biden was introduced by Luis Fonsi, one of the artists behind the hit song.

"'Despacito' proved to me that in this country, we will never be defined by our differences," Fonsi said during his remarks before inviting Biden to join him on stage.

"Joe will always be there for Puerto Rico. He will never abandon us in times of need," the musician added.
Source: NY Post