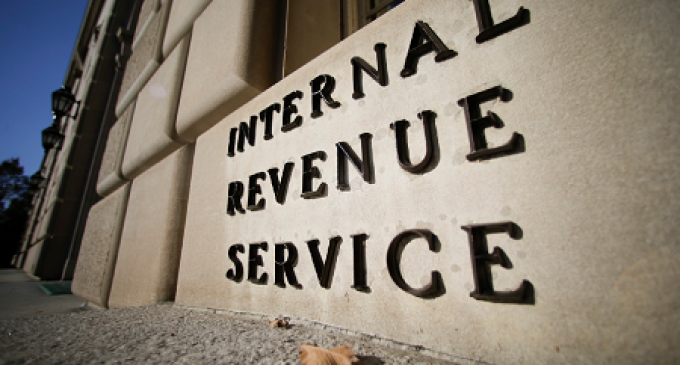 Illegal immigrants who will be granted amnesty can get an extra IRS refund if they file a return for the years that they were working in the U.S. illegally.  So, if they didn't pay into the system during those years where will that money come from?
Look for those who first broke the law by entering our country to do so again to grab some easy cash from Joe Taxpayer via fraudulent IRS forms.
Perhaps the IRS will just steal what they need. According to a New York Times article last year, the IRS has started literally robbing people, taking money out of bank accounts with 'suspicious' activity, such as not depositing enough money.
IRS Commissioner John Koskinen confirmed Tuesday that illegal immigrants granted amnesty from deportation under President Obama's new policies would be able to get extra refunds from the IRS for money they earned while working illegally, as long as they filed returns during those years.

Illegal immigrants who are granted the amnesty will be given official Social Security numbers, which means they can go back and amend up to three years of previous tax forms to claim the Earned Income Tax Credit, potentially claiming billions of dollars in additional payments they were ineligible for before the amnesty.

Mr. Koskinen said they will have to have already filed returns for those back-years, and there's a statute of limitations that governs how far they can go back, but said the agency's current interpretation of laws would allow them to claim the EITC credit retroactively.

"This is the problem you get into," said Sen. Charles E. Grassley, an Iowa Republican who demanded a solution to the loophole. "The IRS's interpretation of the EITC eligibility requirements undermines congressional policy for not rewarding those working illegally in the United States."

The loophole stems from the way the IRS handles illegal immigrants. While the immigrants are not authorized to work in the U.S. legally, the IRS still wants to be paid taxes on the earnings of those who do work, and so it has issued millions of Individual Taxpayer Identification Numbers, or ITINs, to illegal immigrants, enabling them to pay up.

Some tax credits are only eligible to those with a valid Social Security number. Those who get valid numbers, however, can go back and claim them.

The IRS website says taxpayers have until April 15 this year to file back to 2011 claiming tax credits they didn't ask for in their previous returns, and have until April 15, 2016, to claim tax credits from 2012.

Mr. Grassley asked Mr. Koskinen to go back and revisit his agency's interpretation of the laws.

The Obama administration says up to 4 million illegal immigrants could earn "deferred action," or a stay of deportation and work permits that would accompany it. It's uncertain how many of those were paying taxes using ITINs, and thus could be eligible to claim the EITC.

The EITC isn't the only tax credit to be ensnared in the immigration debate. The IRS already pays out billions of dollars a year to illegal immigrants under a program known as the additional child tax credit.

The IRS says the law is vague on who is eligible for the child credit, so to be on the safe side they pay it out to illegal immigrants.

Backers argue that the children claimed for the child tax credit are likely U.S. citizens, even if their parents are here illegally, and so it would be unfair to strip the money.

In 2010, the government paid out $4.2 billion to illegal immigrants who claimed the child tax credit, the IRS's inspector general found.