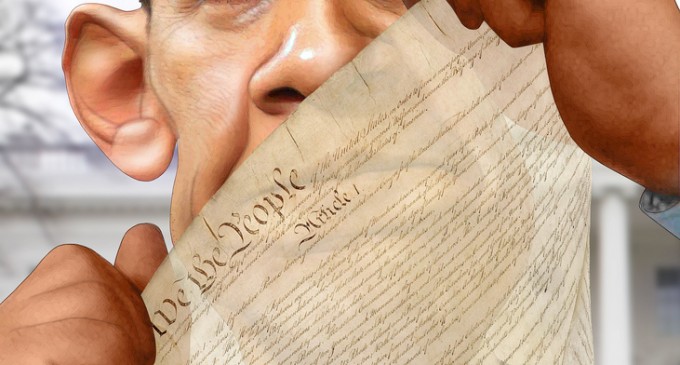 Rep. Bill Flores of Texas feels that if it were before the House, an impeachment would happen at this point.
We are way past the point where impeachment should be a foregone conclusion.
Bringing Obama up on charges of high treason for crimes against this country should be the topic of discussion, not something so 'light' as impeachment!
WND has published an exclusive article revealing that Representative Stockton out of Texas distributed copies of the  " articles on impeachment" for Barack Obama, and is pushing for special investigations of the president. Stockton notes that possible prosecutions are in order over such debacles as Fast and Furious, Benghazi, and a multitude of other scandals that have been swept under the rug by this administration.

Stockton is not alone in his thoughts, a total of 15 members of congress have now discussed impeachment of Obama. Rep. Bill Flores of Texas brought up the idea at a townhall meeting.  A video of the meeting depicts Flores claiming: "I've looked at the president. I think he's violated the Constitution. I think he's violated the Bill of Rights." He says they've come to a point where a decision must be made, and feels that "if the house had an impeachment vote it would probably impeach the president."

WND's exclusive reveals:

To obtain a conviction, the prosecuting team must have 67 votes, and he wasn't sure that even all of the GOP members would vote to convict.

Other members of Congress who have made comments about impeachment include Rep. Duncan Hunter, R-Calif.; Sen. Tom Coburn, R-Okla.; Rep. Kerry Bentivolio, R-Mich.; Sen. Ted Cruz, R-Texas; Rep. Blake Farenthold, R-Texas; Sen. James Inhofe, R-Okla.; Rep. Jason Chaffetz, R-Utah; Sen. Tim Scott, R-S.C.; Rep. Michele Bachmann, R-Minn.; R-Texas; Rep. Louie Gohmert, R-Texas; Rep. Trey Radel, R-Fla.; Rep. Steve King, R-Iowa; and Rep. Ted Yoho, R-Fla.

"I think he"s breaking the law if he strikes without congressional approval," Hunter told the Washington Times regarding Obama's plan to bomb Syria. "And if he proceeds without Congress providing that authority, it should be considered an impeachable offense."

WND previously reported Coburn's statement that Obama is "perilously close" to qualifying for impeachment.

Speaking at the Muskogee Civic Center in Oklahoma, the senator said, "What you have to do is you have to establish the criteria that would qualify for proceedings against the president, and that's called impeachment."

Coburn said it's "not something you take lightly, and you have to use a historical precedent of what that means."

"I think there's some intended violation of the law in this administration, but I also think there's a ton of incompetence, of people who are making decisions," he said.

A constituent then responded, "Even if there is incompetence, the IRS forces me to abide by the law."

Coburn said he agreed.

"Those are serious things, but we're in a serious time," he said. "I don't have the legal background to know if that rises to high crimes and misdemeanor, but I think they're getting perilously close."

Days earlier, Bentivolio said it would be a "dream come true" to impeach Obama.

Bentivolio told the Birmingham Bloomfield Republican Club Meeting, "You know, if I could write that bill and submit it, it would be a dream come true."

He told constituents: "I feel your pain and I know. I stood 12 feet away from that guy and listened to him, and I couldn't stand being there. But because he is president I have to respect the office. That's my job as a congressman. I respect the office."

Bentivolio said his experience with the president caused him to consult with attorneys about what it would take to remove Obama from office.

Cruz responded to a question about impeachment after a speech.

"It's a good question," Cruz said. "And I'll tell you the simplest answer: To successfully impeach a president you need the votes in the U.S. Senate."

Farenthold, who thinks there are enough votes in the House to impeach Obama, said he often is asked why Congress doesn't take action.

He said he answers, "[I]f we were to impeach the president tomorrow, we would probably get the votes in the House of Representatives to do it."

But, like others, Farenthold sees the lack of votes in the Senate as a roadblock.

The congressman also worries about what would happen if they tried to impeach Obama and failed. He believes the unsuccessful attempt to impeach President Clinton hurt the country.

In May, Inhofe suggested Obama could be impeached over a White House cover-up after the attack in Benghazi, Libya, on Sept. 11, 2012.

He told listeners of "The Rusty Humphries Show": "Of all the great cover-ups in history – the Pentagon papers, Iran-Contra, Watergate, all the rest of them – this … is going to go down as the most egregious cover-up in American history."

But even with that searing indictment, Inhofe, too, stopped short of calling for impeachment.

Rep. Jason Chaffetz, R-Utah, has offered tentative support for impeachment.

"I'm not willing to take it off the table, but that's certainly not what we're striving for," he told CNN.

One Republican actually has come out and called for the impeachment of Obama, and he did it more than two years ago, before he became a congressman.

Rep. Ted Yoho, R-Fla., posted on his website in June 2011 a list of reasons for impeachment.

Other figures who have discussed impeachment include Glenn Beck, Watergate investigative reporter Bob Woodward, WND columnist Nat Hentoff and a panel of top constitutional experts.

Stockman recently distributed copies of the book, "Impeachable Offenses: The Case for Removing Barack Obama From Office," to the other 434 members of the House of Representatives to bolster his case for a special investigation of the President.

The bestselling "Impeachable Offenses" presents an indictment that goes well beyond today's headlines.

The Daily Mail of London has called "Impeachable Offenses" "explosive," reporting that the book contains a "systematic connect-the-dots exercise that the president's defenders will find troublesome."

"Consider this work to be the articles of impeachment against Barack Obama," stated Klein.

"Every American, whether conservative or liberal, Democrat, Republican or independent, should be concerned about the nearly limitless seizure of power, the abuses of authority, the cronyism, corruption, lies and cover-ups documented in this news-making book," Klein said.

The authors stress the book is not a collection of generalized gripes concerning Obama and his administration. Rather, it is a well-documented indictment based on major alleged violations.