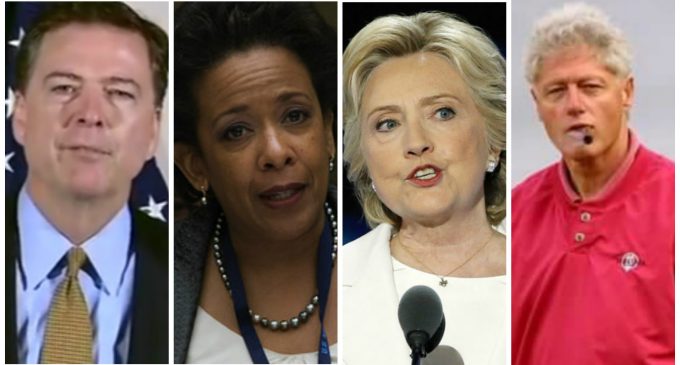 Former FBI Director James Comey committed perjury when he signed a letter saying there are no documents relating to the infamous Tarmac meeting between former president Bill Clinton and former AG Loretta Lynch. Now we know there are hundreds of such documents. With the recent IG report, the reason why Comey lied under oath becomes apparent – the FBI set up the meeting.
A whistleblower very close to Trump called QAnon released a batch of messages which outlined the leaked documents and timeline that, when pieced together, revealed the collusion between the Obama administration and Hillary Clinton's 2016 presidential campaign to escape prosecution over the back of deceased Supreme Court Justice Antonin Scalia.
Scalia's death remains shroud in mystery. But from what QAnon has leaked, 2016 presidential candidate Hillary Clinton was scheming to bribe officials in the Obama injustice department with his suddenly vacant seat.
The first QAnon post was timestamped at 01:34:50, approximately 1:35 am ET on Tuesday, appearing as follows:

Pay attention to the 4th line where QAnon notes the alleged sordid details surrounding that infamous Tarmac meeting between Bill Clinton and then-Attorney General Loretta Lynch during the 2016 presidential election: Tarmac meeting [SC/LL deal > AS 187]

Decoded, QAnon is suggesting that when Clinton met with Lynch on the tarmac, he offered her the Supreme Court seat of former Judge Antonin Scalia in return for Lynch intervening with the FBI to end their criminal investigation into Clinton's email server, exonerating Clinton from any criminal charges.

Clinton reasoned Obama's nomination of Judge Merrick Garland to replace Scalia would go nowhere with Republicans in the Senate wanting to reserve the nomination for the next president. With Scalia's seat still open, Hillary as president could nominate Lynch.

QAnon is also suggesting former Supreme Court Justice Antonin Scalia was murdered.
Move to the next page to see the how the Clinton swamp creatures within the FBI helped facilitate the meeting: