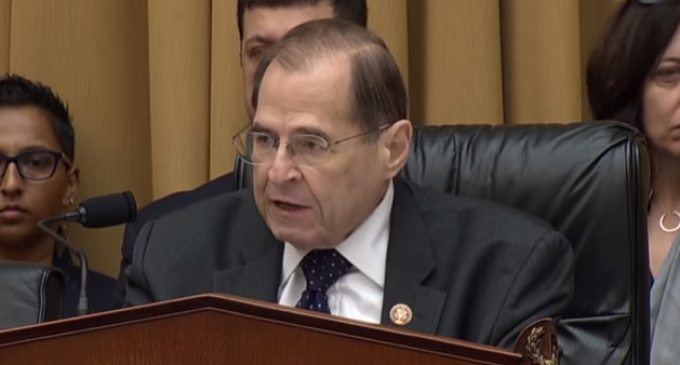 Democrats on the House Judiciary Committee will vote on a resolution Wednesday or Thursday on whether to install new procedures for its impeachment inquiry – despite the full House never having taken a vote on impeachment and only a third of the House backing impeachment or an impeachment inquiry. The Dems are so intent on going after President Trump that they are changing their own rules.
Under the changes, staff can question witnesses for prolonged periods of time and will allow the panel to accept evidence behind closed doors so that sources are not revealed.
Even though a recent poll shows that impeachment is opposed by most Americans, Chairman Jerrold Nadler, D-N.Y. is intent on moving forward, signaling a widening gap with Democratic leadership and their panel.
It also shows the growing divide between progressives pushing for impeachment and moderate Democrats in the House and their leadership, which is largely opposed to any formal action now. Despite House Speaker Nancy Pelosi's public comments of supporting the panel's investigation, privately she has told members that the issue is a loser without strong public sentiment.

One Democrat on the committee defended the procedures move on Monday.

"I think Speaker Pelosi respects Chairman Nadler's work on and the committee, and [I] think … for her, the most important thing is for us to have the strongest hand possible against this president, and the American public to have the whole truth," Florida Democratic Rep. Debbie Mucarsel-Powell, a member of the panel, told CNN on Monday. "So this is just another procedural vote as we continue to intensify our investigation."

The procedures change has precedent from previous impeachment probes and will more clearly define where the committee stands on its investigation, Democratic committee aides said in a call with reporters Monday.

It also tees up a busy fall season for the panel, which could issue articles of impeachment by year's end, according to Chairman Jerrold Nadler, D-N.Y, and committee aides.
Source: NPR