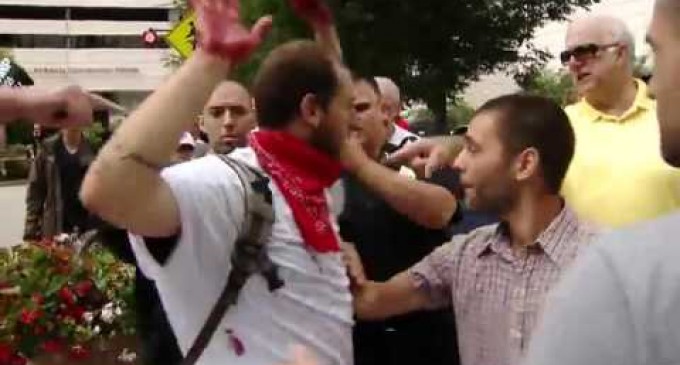 The rage that the left has toward Trump supporters is incomprehensible.  A violent incident occurred at an event in Pittsburgh on Saturday afternoon, when a Clinton supporter lit an American flag on fire, to goad a crowd of Trump supporters.
Hillary Clinton spoke at a rally at the David L. Lawrence Convention Center where supporters of both Trump and Hillary assembled. Police were called because Joshua Sturman crossed the street, approached a peaceful group of Trump supporters, pulled out a flag, and started to light it on fire.
Struman became enraged when the Trump supporters tried to put the fire out.  He grabbed an older gentleman, threw him to the ground and jumped on him.  Others pulled Struman off the man, and police arrived quickly on the scene, taking him into custody.
View the video of the scuffle on the next page to get a sense of the deep rage that engulfs the left.