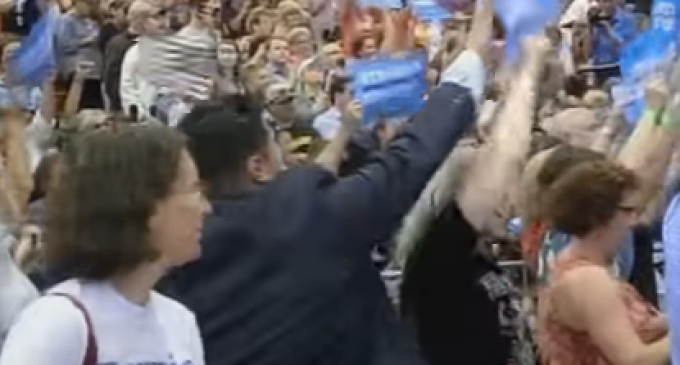 At a Portsmouth, New Hampshire Hillary Rally, Bernie Sanders stood by a smug Mrs. Clinton and gave his endorsement.  The crowd, most of which were Hillary supporters, were clothed in her campaign merchandise and displaying their love by waving Hillary for America signs.
While Bernie spoke, a woman named Trisha tried to hold up her Bernie sign, hoping to catch his eye and give him that proverbial "I'm still with you" support.  However, in the land of progressives, free speech, even by other leftist loons, is not allowed.
The petite woman was confronted by a very large man, who grabbed at her sign each time she would lift it into the air.  The look of distress mixed with determination, was evident as she continued to voice her Bernie support, only to be shut down by the Hillary supporter.
View the video on the following page.