On Monday, Hillary Clinton offered up a paltry attempt at an apology, four words in fact, "I'm sorry about that." She called it a mistake, not a flagrant disregard for the laws that are in place to protect the security of the nation and herself as the sitting Secretary of State.
Her "apology" sounded more like a regret of being caught and running out of dodges and lies to cover up her "mistake".
The following Tuesday, she resorted to Facebook to make a better attempt at an apology.
Hillary Clinton turned to Facebook Tuesday night to apologize for using a private email server to conduct official government business during her tenure as secretary of state.

"Yes, I should have used two email addresses, one for personal matters and one for my work at the State Department. Not doing so was a mistake. I'm sorry about it, and I take full responsibility," Clinton wrote.
Mrs. Clinton told Associated Press, "I did not send or receive any information marked classified.  I take the responsibilities of handling classified materials very seriously and did so."
If this were the case, then where did she in fact receive and send classified information?  It seems as Secretary of State, she would have been concerned that nothing of that nature was being sent to her email.  Is she contending all classified information was delivered snail mail?
Seriously, it is about time she "apologized" but the American people are not fools and her "I made a mistake" speech should date back to when she was confirmed as Secretary of State, January 21, 2009, the day she premeditated using a private server.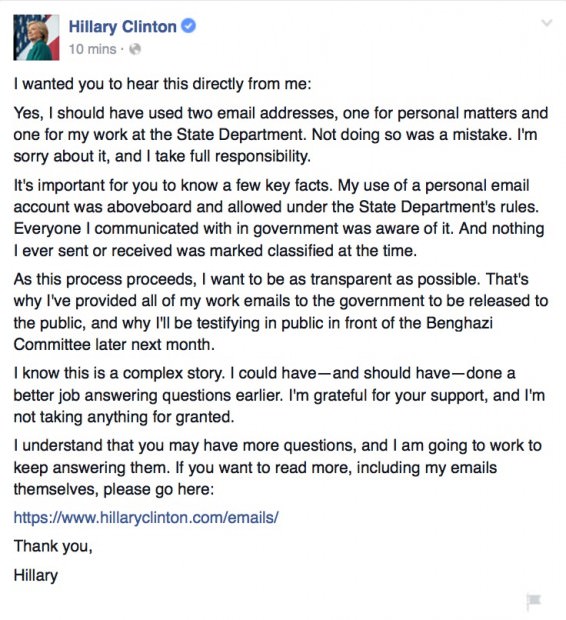 Source:  The Blaze