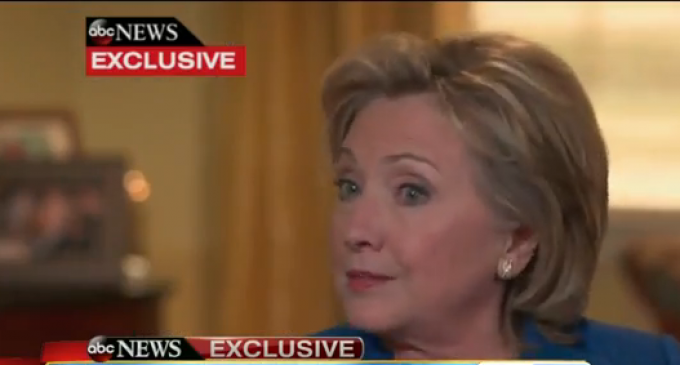 Hillary and Bill Clinton know 'hard times', as she explained in a recent interview with Dianne Sawyer, they left the White House 'not only dead broke but in debt', and they 'struggled' to pay for their 'houses'.
According to Hillary, these hard times cause them to have to go out and make $100 million in speeches, amongst other things.
Yes, all Americans who are struggling financially, you can believe Hillary 'knows your pain'.
On Monday morning, ABC teased an interview between all-but-announced presidential candidate Hillary Clinton and the network's Diane Sawyer set to air later in the evening.

One particular exchange jumped out at us. Clinton says that she and her husband, former President Bill Clinton, left the White House in debt, and needed the speaking fees they both earned in order to pay those debts.

SAWYER: You've made five million making speeches? The president's made more than a hundred million dollars?

CLINTON: Well, you have no reason to remember, but we came out of the White House not only dead broke but in debt. We had no money when we got there, and we struggled to piece together the resources for mortgages for houses, for Chelsea's education. You know, it was not easy. Bill has worked really hard and it's been amazing to me. He's worked very hard. First of all, we had to pay off all our debts. You know, you had to make double the money because of, obviously, taxes, and then pay off the debts and get us houses and take care of family members.

We also did not remember that, specifically. Clinton's opponents didn't seem inclined toward much sympathy, quickly lampooning it on Twitter. A specific target: Clinton's reference to the need to buy "houses," a comment reminiscent of John McCain's awkward failure in 2008 to remember how many homes he owned.

And here are the houses, courtesy of the conservative group America Rising.

Certainly, the Clintons accrued an enormous amount in legal fees toward the end of the 1990s, but is Clinton's tacit suggestion that the family was scraping by accurate?

Well, not exactly. Clinton left the White House to head to the Capitol as New York's junior senator in 2000, meaning that she had to file annual disclosures of how much she and her husband earned, owned, and owed. We took a look at those filings, via Open Secrets. And this is what the Clinton's wealth looked like for the first four years after they left office in early 2001.

We considered three things: what the Clintons reported as income on their taxes, what they reported as assets in Hillary Clinton's mandated disclosures, and what was listed as being owed. The disclosures only give broad boundaries for the value of the assets owned, so the true value of their assets lies somewhere within the dark-red bar.

So, yes, it is technically true the Clintons left office in debt. But, a year later, the couple's assets had soared. And, as was reported at the time, the Clintons' debt was entirely gone by the end of 2004 — well before Hillary Clinton left the Senate and well before she left her position as secretary of state. Nor was that income entirely from speaking fees; Clinton's memoir Living History earned the couple a great deal of income, including $2.8 million reported in her 2001 financial disclosure.

What's more, there are perks that come with being a former president. According to an April report from the Congressional Research Service, Bill Clinton has received nearly $16 million in pensions and benefits from the federal government since leaving office. That includes $944,000 in fiscal year 2014 for office space, staff, and a pension.

If you were wondering, it was also not as though Hillary Clinton's unsuccessful 2008 bid for the presidency thrust the couple back into debt. For her 2009 disclosure, filed because of her appointment to lead the Department of State, the Clintons' assets were worth somewhere between $10 million and $50 million.

They did, however, have up to $65,000 in credit card debt. Clinton made $200,000-plus for individual speeches in 2013, after she left the State Department. So that credit card debt probably didn't stick around long.