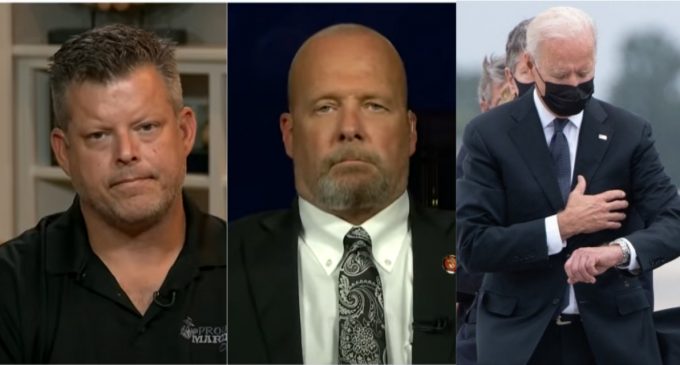 Family members of the US Marines killed in last week's suicide terror attack at the Kabul airport are blasting President Biden for glancing at his watch during a solemn ceremony at Dover Air Force Base in Delaware for the 13 US troops killed in the terror attack near the Kabul airport.
Many were outraged when a photo surfaced of Biden glancing at his watch during a solemn ceremony – except for the Boston Herald who asked, "Or was he just straightening out his sleeve?"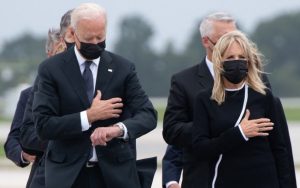 Now grieving dads of two Marines that were killed are accusing Biden of looking at his watch as each casket was removed and even claimed he talked about his own son, Beau, when meeting families.
Mark Schmitz, the dad of Lance Corporal Jared Schmitz, and Darin Hoover – the father of Staff Sergeant Taylor Hoover – claimed the president looked at his watch not just once.

Hoover told Fox News: "The checking of his watch, that didn't happen just once. That happened on every single one that came out of the airplane. It had happened on every single one of them."

He said Biden would look at his watch after each salute was released.

Schmitz added: "I leaned into my son's mother's ear and I said, 'I swear to God if he checks his watch one more time.'"

He claimed it was the "most disrespectful" thing he had ever seen.

Schmitz alleged that Biden talked about his own son Beau rather than Jared in his meeting with the president. Beau, who was an Iraq War veteran, died in 2015 from a brain tumor.
Turn to the next page to hear from these parents and why some have refused to meet with the 'president'.