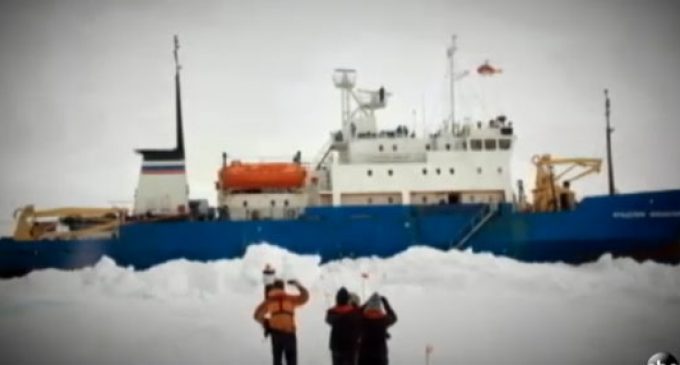 For one group of climate scientists and media figures, global warming is really not happening fast enough. The group of scientists and eco-tourists  is stranded in their ship by Antarctic ice and multiple rescue attempts have, so far, failed due to harsh weather.
Thick Antarctic ice has blocked a third ice breaker from reaching a stranded cruise ship, prompting officials to change plans today and prepare to take the passengers off the ice-bound ship by helicopter.

The decision to resort to an airlift came after Australian icebreaker Aurora Australis could only get within 10 nautical miles of the trapped vessel today before the rescue attempt was called off because winds of up to 30 knots and snow showers, according to the Australian Maritime Safety Authority.

The Akademik Shokalskiy, a Russian-crewed research vessel touring the Antarctic, has been trapped in ice since Christmas Eve.

"A decision has been reached to evacuate 52 passengers and four crew members by helicopter from China's Xue Long ship, should the weather allow," the Russian foreign ministry said in a statement. "According to (the captain), all the crew and other members of the expedition are in good health."

"Neither their lives nor safety are under threat," the ministry said.

The ship is carrying 74 scientists and tourists.

The chopper can only carry 15 people at a time, so it would have to make five trips to evacuate all 52.

Source: Breaking News from ABC