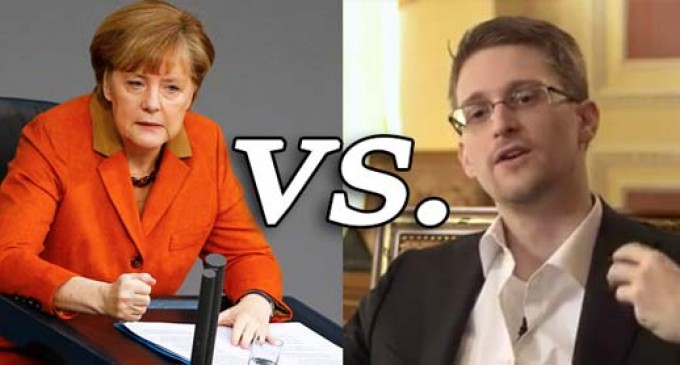 German Chancellor Merkel: "Our views are today far apart" (referring to US spying)
Edward Snowden: "The German services and the US services are in bed together" (referring to intelligence services).
NSA spying isn't an American creation…it's imported.
Edward Snowden's First Television Interview (ARD/Germany) from LeakSourceNews on Vimeo.
Countries spying on their allies sow distrust that could result in less, rather than more security, German Chancellor Angela Merkel has warned. She particularly referred to the surveillance and spying activities by the US and the UK.

"But does that make it right for our closest allies, like the United States or Britain, to access all imaginable data – arguing that it helps their own security and that of their partners?" Chancellor Angela Merkel told the Parliament in the first major policy speech of her third term.

Merkel, who herself was a target of US eavesdropping on her personal phone calls, warned that using "everything that is technically do-able" to obtain information leads to mistrust between allies, which would eventually undermine their mutual security.

The US, however, says its surveillance practices are focused on threats to national security, including terrorism. In its recent interview, US President Barack Obama assured Merkel that she does not need to worry about NSA surveillance, even though the Agency would continue surveillance on foreign governments.

"Can it be right that it's not just about defending against terrorist threats but also to gain advantage over their allies, for example, in negotiations at G20 summits or UN sessions?""Our answer can only be: 'No, that cannot be right'."

Merkel is set to meet with US Secretary of State John Kerry in Berlin on Friday to discuss "on the transatlantic partnership and global political issues". The NSA and its surveillance practices are expected to be on the agenda.

"Our views are today far apart," Merkel said.

In October, Merkel, who grew up in East Germany, where phone tapping was common practice, compared the NSA's spying to that of the Stasi secret police in the former German Democratic Republic. Following the revelations, Merkel accused the US of a grave breach of trust.

The Chancellor has reiterated that Berlin was now driving efforts for "a European no spying" agreement and new rules to safeguard data privacy.

Since reports about spying emerged, Merkel's government has been pressing for a "no spying" agreement with Washington. However, the US seems to be reluctant to sign such deal, the Süddeutsche Zeitung reported in mid-January, citing a Federal Intelligence Service (BND) employee as saying: "We're getting nothing."

Negotiations on an anti-spying agreement began in August last year, after whistleblower Edward Snowden started leaking classified data in June. In her Wednesday speech Angela Merkel still vowed to continue negotiations.