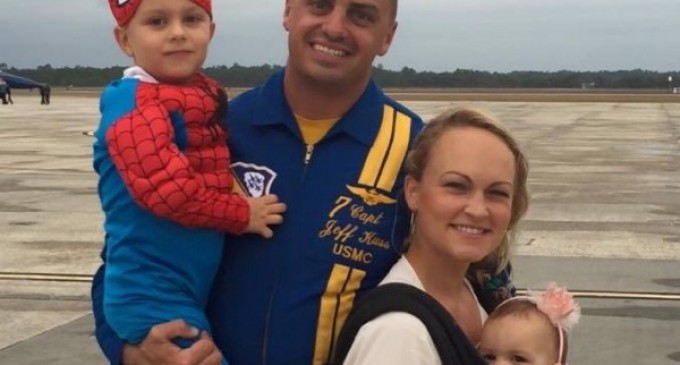 In the twilight of Smyrna, Tennessee, with American flags waving and candles flickering, Marine Capt. Jeff Kuss, the Blue Angel pilot who died heroicly was honored at the vigil.
The Blue Angel number 6, an F/A-18 Hornet, crashed just after take-off on Thursday, killing the Kuss during a practice training for the Great Tennessee Airshow, the upcoming weekend.
He is being hailed a hero for the actions taken to keep civilians safe and avoid crashing into an apartment complex. Dick Walstad, the "AirSho" organizer stated that it was a "… populated area, a bunch of kids,"  and he believes that he did not eject in order "to prevent further casualties. He was a hero, a hero".
The residents of Smyrna held the candlelight vigil on Thursday night "to honor husband and father of two".
Read more about the heroic actions of Pilot Marine Capt. Jeff Kuss on the next page.