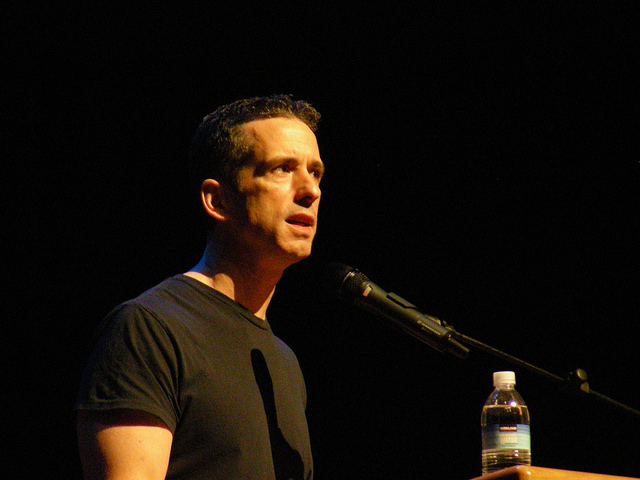 Frito Lay will be getting in bed with Dan Savage, the hatemonger of Christianity and founder of the non-profit It Gets Better, an organization for LGBT.  Proceeds of this unholy union, Doritos and Savage, will go to his It Gets Better company.
This distasteful human, Savage, is vicious in his bigotry and anti-Christian bullying.  It is a wonder that a company would align themselves with a group that is loud in voice and rhetoric, but small in numbers and alienating to most of the population.  Will there choice of bedfellows hurt their bottom line?
Perhaps Dorito should have read some of this hater's remarks before making chips for his cause.
[Savage] followed up that charming spectacle by stating he wanted to "f*** the s*** out of Rick Santorum." He said that Republican gays were "f*ggots" who "grab their ankles, right on cue." He tried to slander Saddleback Church Pastor Rick Warren by Google bombing a self-coined term, "saddlebacking," meaning "the phenomenon of Christian teens engaging in unprotected anal sex in order to preserve their virginities." He said in 2006 that Green Party Senate candidate Carl Romanelli "should be dragged behind a pickup truck until there's nothing left but the rope." He said in 2011, "I wish the Republicans were all f***ing dead."
If you wish to boycott Pepsi, who owns Frito-Lay, here's a list of their products:
Frito-Lay
Gatorade
Quaker Oats
Tropicana
Elma Chips (Brazil)
Smiths Crisps Australia
Walkers Crisps United Kingdom
Naked Juice
Lipton

Breakfast Bars
Quaker Chewy Granola Bars
Quaker Chewy Granola Cocoa Bars
Quaker Dipps Granola Bars
Quaker Fruit & Oatmeal Bars
Quaker Life Bar
Quaker Oatmeal to Go Bars

Energy Drinks
AMP Energy
No Fear Energy Drinks
Rockstar Energy
SoBe

Cereal
Cap'n Crunch Cereal
King Vitaman Cereal
Kretschmer Toasted Wheat Germ
Quaker Life Cereal
Mother's Ready-to-Eat & Hot Cereals
Quaker Essentials
Quaker Grits
Quaker Instant Oatmeal
Quaker Natural Granola Cereal
Quaker Old Fashioned Oats
Quaker Oh!s Cereal
Quaker Puffed Rice
Quaker Shredded Wheat Cereal
Quaker Oatmeal Squares Cereal
Quisp Cereal

Other
AMP Energy Gum
Aunt Jemima Mixes & Syrups
Quaker Baking Mixes
Sabra Hummus

Rice Snacks
Quaker Large Rice Cakes
Quaker Mini Delights
Quaker Quakes
Quaker Tortillaz

Side Dishes
Near East Side Dishes
Pasta Roni Side Dishes
Rice-A-Roni Side Dishes

Snacks
Baked! Cheetos Snacks
Baked! Doritos Tortilla Chips
Baked! Lay's Potato Crisps
Baked! Ruffles Potato Chips
Baked! Tostitos Tortilla Chips
Baken-ets Pork Skins and Cracklins
Cheetos Cheese Flavored Snacks
Chester's Flavored Fries
Chester's Popcorn
Cracker Jack Candy Coated Popcorn
Doritos Tortilla Chips
El Isleno Plaintain Chips
Frito-Lay, Fritos, Lay's, and Tostitos Dips & Salsas
Frito-Lay Nuts & Seeds
Fritos Corn Chips
Funyuns Onion Flavored Rings
Gamesa Cookies and Wafers
Grandma's Cookies
Hickory Sticks
Hostess Potato Chips
Lay's Kettle Cooked Potato Chips
Lay's Kurkure
Lay's Potato Chips
Lay's Stax Potato Crisps
Lay's Wavy Potato Chips
Maui Style Potato Chips
Miss Vicky's Potato Chips
Munchies Snack Crackers
Munchies Snack Mix
Munchos Potato Crisps
Natural Cheetos
Natural Lay's
Natural Ruffles
Natural Tostitos
Nut Harvest Nuts
Rold Gold Pretzels
Ruffles Potato Chips
Sabritones Puffed Wheat Snacks
Santitas Tortille Chips
Smartfood Popcorn
Smartfood Popcorn Clusters
Spitz Seeds
Stacy's Pita
Bagel Chips
SunChips Multigrain Snacks
Tasali Snack Foods – in Saudi Arabia
Tostito's Artisan Recipes Tortilla Chips
Tostito's Tortilla Chips

Soft Drinks (original Pepsi brands)
Diet Mountain Dew
Mountain Dew
Mountain Dew Throwback
Sierra Mist Natural
Diet Sierra Mist
7up
Pepsi
Pepsi Atom
Diet Pepsi
Pepsi One
Pepsi Next
Pepsi Wild Cherry
Diet Wild Cherry Pepsi
Caffeine Free Pepsi
Diet Caffeine Free Pepsi
Diet Pepsi Lime
Caffeine Free Mountain Dew
Caffeine Free Diet Mountain Dew
Mountain Dew Livewire
Mountain Dew Code Red
Diet Mountain Dew Code Red
Lipton Brisk Lemon
Lipton Brisk Sweet Tea
Mountain Dew Voltage
Mountain Dew White Out
Diet Lipton Brisk WL
Lipton Brisk Fruit Punch
Lipton Brisk Lemonade
Pepsi Throwback
Sierra Mist Cranberry
Diet Sierra Mist Cranberry
Mug
Diet Mug
Mirinda
Atom

Bottled Water
Aquafina
Aquafina FlavorSplash
Propel Zero
SoBe Lifewater
Source: Breitbart
Photo: Mel Green