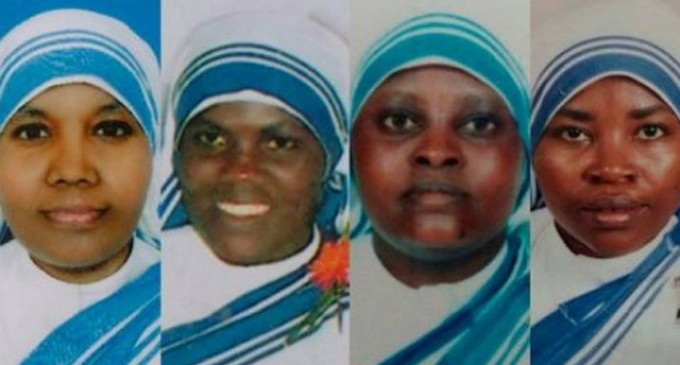 The contrast could not be more stark between those who have given their lives in service and made the ultimate sacrifice of death at the hands of barbaric Islamists.  ISIS claims the lives of others in the name of Allah, while the Sisters of the Missionaries of Charity gave their lives in service to God and others.  The later come in peace and love, while ISIS comes in hate and terror.
Breakfast was being served at the home for 80 elderly in Aden, Yemen, when the attackers entered under the guise of visiting their mothers.  One witness said, "They forced the men and women outside with their hands tied.  We heard the sound of gun fire and when we came out, we saw them all dead in the garden."
The four nuns were tied up, shot and then had their heads smashed in by the jihadists.  One surviving nun heard an Yemeni guard shouting out to run and she hid herself in a storeroom fridge.  Twelve other volunteers from parts of Africa were also killed.  Their bodies were found, handcuffed and shot in the head.
The following page has video of the nursing home in where the slaughter took place.  Though no residents were physically harmed in this terrorist attack, they will forever endure the horrors of what occurred in their home.  Go on to page two.
[/nextpagelink] [/nextpagelink]