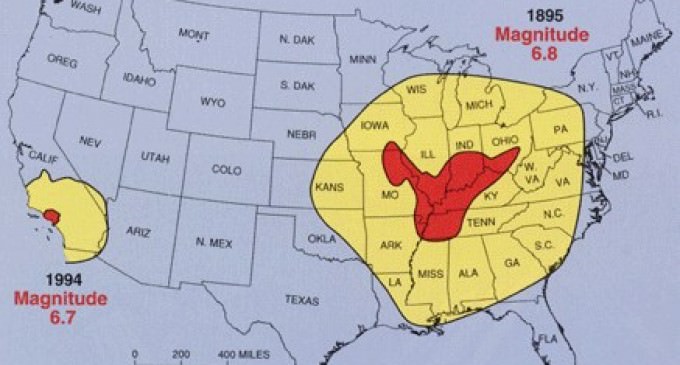 For those living in Southern Califonia, the dreaded San Andreas fault has been lurking earthquake night-terror, just waiting to pour out its pent-up fury on the west.
However, the New Madrid fault that rattled La Center, Kentucky, is a seismic zone six times larger than the infamous San Andreas. The New Madrid covers parts of Mississippi, Tennessee, Kentucky, Arkansas, Ohio, Indiana and Illinois.
The earthquake that just struck La Center, Kentucky could be felt for 267 miles and was "only" a 3.5 quake, yet may very well be a "foreshock" of worse things to come.  Scientists report that the New Madrid fault is overdue for a major event, by 30 years. The "nature of the Earth's crust" in this area could do vast damage throughout the east coast. Parts of Illinois and Missouri felt the La Center quake early Sunday morning.
Read more on the next page, about the disastrous prospects that this New Madrid fault could bring the middle America  and what USGS is predicting regarding seismic activity from this fault zone.