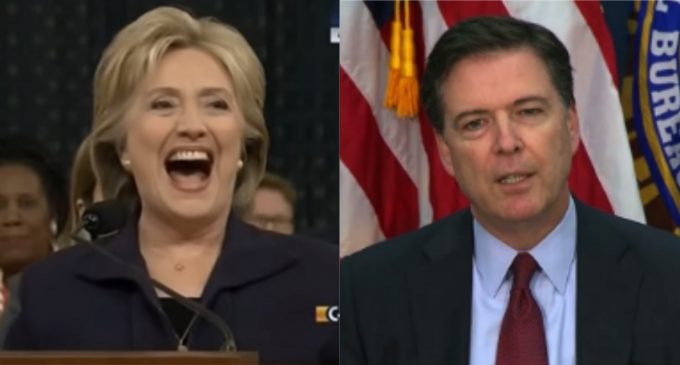 Government watchdog group Judicial Watch has obtained 186 pages of records from the Department of Justice that includes emails documenting what they call "an evident cover-up of a chart of potential violations of law by former Secretary of State Hillary Clinton." (emphasis ours)
Judicial Watch obtained the records through a Freedom of Information Act (FOIA) lawsuit they filed in a January 2018 after the DOJ ignored a December 4, 2017 FOIA request.
The new emails were received in response to U.S. District Judge Reggie B. Walton's May 21 order to the FBI to begin processing 13,000 pages of records exchanged between FBI official Peter Strzok and his former lover FBI attorney Lisa Page. Judicial Watch has been trying to obtain all communications between the couple.
After former FBI Director James Comey announced during a press conference that Hillary Clinton wouldn't be prosecuted for flagrant crimes with her email server, an email chain reveals that another FBI head produced a "chart of the statutory violations considered during the investigation [of Clinton's server], and the reasons for the recommendation not to prosecute…"
Continue to the next page for details.