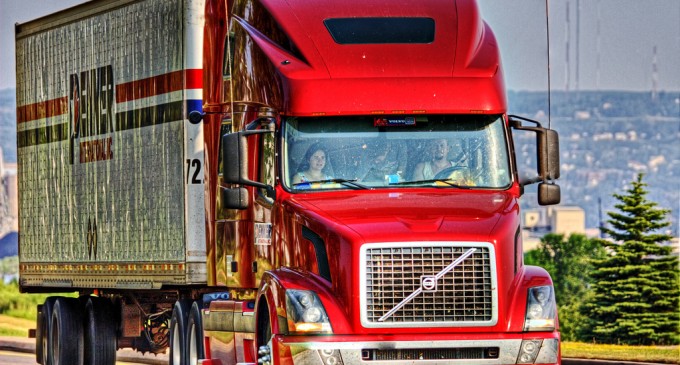 The truckers were planning to arrest as members of congress!
Now both Facebook and Twitter have shut them down. We must file complains with both these companies.
When this is all over and we have taken our country back we will remember who was on the right side and who was on the wrong!
Twitter has suspended the account belonging to 'Truckers for the Constitution', a group that has received national media attention over its plan to roadblock traffic in DC and arrest members of Congress later this week.

Although the event, scheduled for Friday, has been public for around a week, it went viral this morning after being covered in a lengthy piece by U.S. News & World Report which was also linked on the Drudge Report. "We are not going to ask for impeachment," the group's organizer Earl Conlon said. "We are coming whether they like it or not. We're not asking for impeachment, we're asking for the arrest of everyone in government who has violated their oath of office."

The group has promised to allow emergency vehicles and anyone who expresses support to bypass the convoy, but says that it will set up a three lane roadblock if police attempt to interfere with the group's demands. The organization promises to be peaceful and thinks it possible to achieve the arrest of one or two Congress members, a spectacle that will represent, "a shot across the bow that will ripple across all branches of government."

The group's main gripe is the Obama administration's policy of using taxpayer dollars to fund Al-Qaeda-linked rebels in Syria. Twitter reacted to the news by almost immediately terminating the group's account. Attempting to access the organization's https://twitter.com/T2SDA page brings up the following message: Although the group's Facebook page currently has nearly 50,000 likes, its previous incarnation was also permanently deleted.

Facebook and Twitter's targeting of 'Truckers for the Constitution' is yet another reminder that the social media giants have total contempt for the First Amendment and any form of political activism that is anti-Obama. Despite the fact that Twitter routinely fails to shut down accounts that directly threaten violence, and is even slow in removing accounts belonging to terrorist groups (it took 5 days for them to shut down an Al-Qaeda account), its targeting of Truckers for the Constitution is ruthless in comparison.

Within hours of the group's planned protest appearing in U.S. News & World Report and being linked up on the Drudge Report, the account was terminated. So Truckers for the Constitution's account gets pounced upon within 5 hours, yet Al-Qaeda gets ignored for 5 days. Is it really any wonder that Twitter is hemorrhaging money, while Facebook is losing millions of users when this is how they treat the First Amendment?