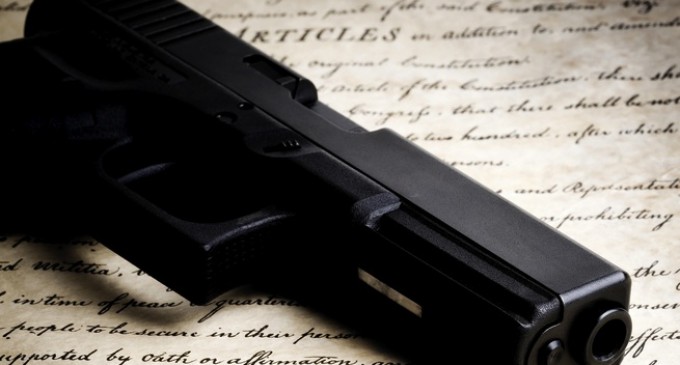 Leftist citizen-control groups 'Mayors Against Illegal Guns' and the 'Moms Demand Action' have succeeded in pressuring Facebook to ban gun-themed fan pages, reflected in announced changes to its policy on March 5.
Facebook calls these changes "educational and enforcement" measures regarding discussion of guns and other regulated items on its social networks.

The changes, which also apply to Facebook-owned Instagram, include new age limits for posts or pages promoting private sales of restricted items like firearms, alcohol or adult products. There's new policy language with an emphasis on knowing and following laws related to regulated items like firearms and keeping them away from kids. There will be educational messages sent to users who promote the sale of guns and those seeking them out.

In October 2013, a Kentucky 15-year-old bought a 9mm handgun from a man he met through a Facebook fan page. The high school student was caught with the loaded weapon on the campus of Greenup County High School. The seller, who drove to Kentucky from Ohio, to sell the weapon was also arrested. He told authorities that he has sold other guns to people he's met on Facebook.

"Anybody can go to Facebook and Instagram and buy a gun online. We're asking them to review their policies," a spokeswoman for Mayors Against Illegal Guns told VentureBeat.

Mayors Against Illegal Guns was co-founded by former New York City mayor Michael Bloomberg, along with Boston's former mayor, Thomas Menino, in 2006. More than 1,100 mayor belong to the group.

The other group, Moms Demand Action, had a petition on Change.org to prohibit gun sales on Facebook and Facebook-owned Instagram. It reached over 94,000 signatures.

"Facebook, at its heart, is about helping people connect and communicate. Because of the diversity of people and cultures on our services, we know that people sometimes post or share things that may be controversial or objectionable. We work hard to find a balance between enabling people to express themselves about topics that are important to them, and creating an environment that is safe and respectful," said Monika Bickert, Head of Global Policy Management in a press release.
According to the announcement on Wednesday, Facebook already banned paid advertisements for weapons. There's no mechanism on the social network, like one could find on an e-commerce site, which would let users complete a financial transaction. What these groups really want is for Facebook to monitor posts and conversations in an effort to prevent people discussing topics gun-grabber groups dislike. This seems like a strange demand. In effect these groups want to somehow make Facebook responsible for policing conversations. Does this mean if someone is injured by a firearm bought after a conversation on Facebook or Instagram that the companies would be liable for damages because they didn't censor conversations and posts well enough?
What about if someone gets injured in a car accident? Surely they should also be able to sue any website that had a picture advertising the car for sale. Share this article if you think pressuring companies in this way is a silly, wrongheaded waste of time and establishes a dangerous precedent!
Source: BenSwann
Photo: RedFlagNews