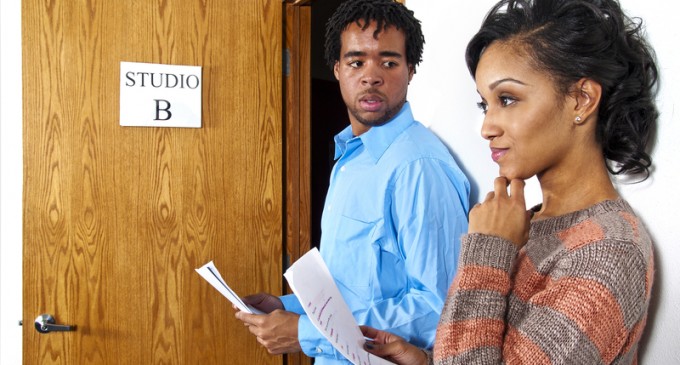 Our democracy has become such a joke that actors are able to make a buck off of it, and I'm not just talking about the politicians in Washington.
You would never guess, but there is a secret industry that provides public officials with that most elusive thing: vocal supporters. Or at least, the next best thing, which is people who pretend to be vocal supporters.
Thanks to companies like Crowds on Demand, anybody with political ambitions and cash to throw away can pay actors to support them at town halls or even hold rallies to give the illusion of popular support for them and their policies.
The actors are so proficient at their jobs that they don't even need to live wherever the person running for or holding office resides, they just need a script to communicate whatever narrative the person seeking their services is trying to push.
Read about one of these "protesters for hire" on the next page:
On the flip side, a particularly sleazy politico could pay these individuals to rally against opponents, a very dirty trick to pull. You would think this kind of activity would be illegal, but according to legal experts, it's a-okay with Uncle Sam. This is why we have people like Prince Jordan Tyson, who doesn't even live in the community he works in, agitating against local projects on behalf of an unknown employer.
"For nearly three minutes, Prince Jordan Tyson is on camera telling city leaders what he later admits, is a lie.

In fact, Tyson, who is not from Camarillo, is a self described struggling actor from Beverly Hills and he now believes he was involved in a secretive new industry where actors are hired to try and sway public officials.

In this case, a construction project in Camarillo he says he was hired to criticize.

'It was scripted, they told me what to say,' Tyson told NBC4.

Some of those scripted lines, he says were provided by recent UCLA graduate Adam Swart, CEO of a company called Crowds on Demand, which will stage rallies and demonstrations for any almost candidate or cause.

Swart says he has employed actors to sway city officials in meetings across the country.

'I have worked with dozens of campaigns for state officials, and 2016 presidential candidates,' Swart told NBC4, adding that he won't name any names.

'I can't go in to detail… if I did, nobody would hire us.'

The California Political Practices Commission tells NBC4 political campaigns are required by law to report expenditures.

But, public records indicate only one committee in the entire state has ever reported paying 'Crowds On Demand', that committee is Six California's, the campaign to split California in to 6 different states."
Source: Liberty Blitzkrieg