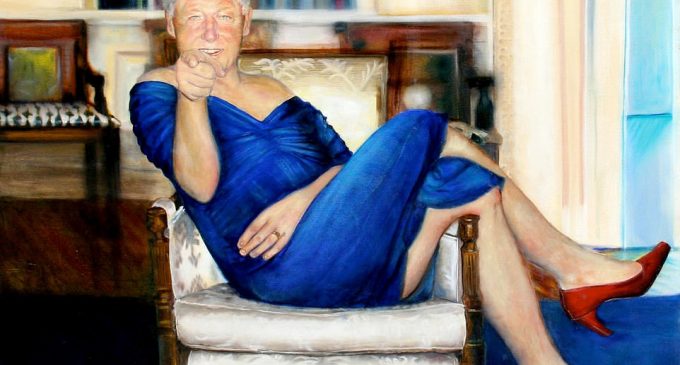 Jeffrey Epstein had quite a bizarre painting hanging in his $56 million Manhattan mansion: former president Bill Clinton lounging on a chair in the Oval Office donning red heels and posing very suggestively in a blue dress that can only make one think of Monica Lewinsky.
The dress is seemingly identical to the one worn by Hillary Clinton at the 2009 Kennedy Center Honors.
The original painting is called 'Parsing Bill' and is by Australian-American artist Petrina Ryan-Kleid and was debuted in 2012 – exhibited for her degree show when she graduated with an MFA in 2012 from the New York Academy of Art. Did Epstein buy the painting at the exhibit or did he track it down?
Epstein and Clinton were once good friends, with the former President having taken 26 trips on the now-deceased billionaires private jet, dubbed the Lolita Express.
Clinton has however denied being on Epstein's 'pedophile island,' Little St. James.
Last month the former president's office said he had not known anything of Epstein's crimes and had taken four trips with him in 2002 and 2003 – although flight logs showed that he had taken a total of at least 26 individual flights in the course of those.

One of Epstein's former sex slaves, Virginia Roberts, claimed she saw Clinton on the island for a dinner held in his honor shortly after he left office, and stood by the claim when questioned under oath.

After the financier's apparent suicide on Saturday morning, Trump retweeted a suggestion that the Clintons were somehow involved in the death and a link to court documents setting out Roberts' evidence.

Additionally, Epstein's alleged procurer, Ghislaine Maxwell, was a guest at Chelsea Clinton's wedding to Marc Meezvinsky, at least a year after the time when Bill Clinton says his relationship with Epstein ended.

The origin of the painting is unknown. DailyMail.com has seen metadata which verifies where and when the picture was taken. It was hanging against a dark-colored wall in Epstein's stone fortress.
Source: DailyMail