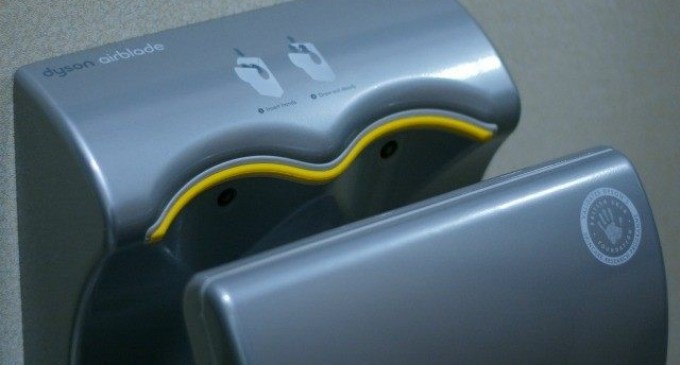 Blasting bacteria at 430 mph to a distance of nearly 10 feet, the Dyson Airblad jet hand dryer is NOT the hygienic wonder it claims to be.  Compared to paper towels, this machine can spread 1,300 times more bacteria, though the company claims differently.
Dyson, has made the statement that their Airblade is the most hygienic hand dryer on the market, has been approved for use in food preparation environments, operating costs up to 97% less than paper towel, and a drastically reduced carbon footprint.
Somehow, the idea of 1,300 rocketing bacteria in a food prep area, does not equate to hygienic or safe.
In a study conducted by the University of Leeds School of Medicine, led by Professor Mark Wilcox, researchers experiments by comparing the hygiene levels of paper towels, a standard warm air hand dryer and the Dyson.  They used water, contaminated with Lacobacillus, a "friendly bacteria" not normally found in public bathrooms and mimicked the bacteria levels of poorly washed hands.
Read the report on the following page and be blown away by the findings.