Trump publicly wrestled with the question of his attendance, even calling on his Twitter followers for guidance. When asked whether or not they thought he should participate in the event, 56% of his Twitter followers said he should.
Fox News, it seems, thought it was a done deal, and released the following statement in which they showed appreciation for the new-found publicity:
Megyn Kelly has no conflict of interest. Donald Trump is just trying to build up the audience for Thursday's debate, for which we thank him.
Turns out, Trump wasn't joking. After Fox News went ahead and announced Trump's participation on-air, they received word from the Trump team that they had made a mistake.
Donald Trump's campaign said Tuesday night that the Republican presidential primary front-runner does not plan to participate in the upcoming Fox News/Google debate, shortly after the debate lineup was announced.
The Trump team clarified the decision at a press conference Tuesday afternoon, also calling out Fox for 'playing games'.
At Tuesday afternoon's press conference, Trump said he was outraged by the "wise guy" remarks. "I didn't like the fact that they sent out press releases toying, talking about Putin, and playing games. I don't know what games Roger Ailes is playing, what's wrong over there? Something's wrong," Trump said. "Let's see how much money Fox is going to make on the debate without me," he added. "It's time that somebody plays grownup."
Trump was pushed over the edge, finally deciding to not attend the debate after an unusually snarky statement Fox News was issued on Tuesday afternoon:
"We learned from a secret back channel that the Ayatollah and Putin both intend to treat Donald Trump unfairly when they meet with him if he becomes president," Fox said. "A nefarious source tells us that Trump has his own secret plan to replace the Cabinet with his Twitter followers to see if he should even go to those meetings."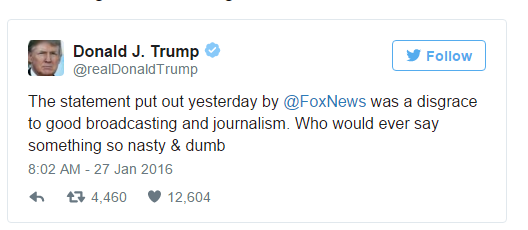 Trump has since said that he intends on doing something else on Thursday night, likely on another network raising money for our nations Wounded Warriors.
If the ratings were going to be HUGE beforehand, both parties may now find themselves with ratings higher than either ever imagined.
Source: Breitbart, Fox News, NY Mag
Trumps announcement on the GOP debate comes at 5:55: