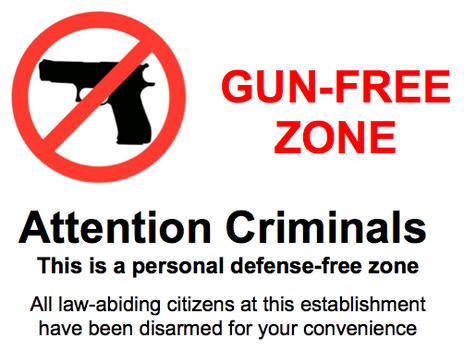 At a recent campaign rally, Donald Trump made a promise bound to make gun owners across the country very happy:
"I will get rid of gun-free zones in schools — you have to — and on military bases on my first day. It gets signed. My first day –there's no more gun free zones," Trump told supporters as they cheered wildly.

Trump pointed out that gun-free zones were dangerous because they attracted people considering a mass shooting.

"You know what a gun-free zone is to a sicko?" Trump asked. "That's bait."

He lamented that soldiers were killed by terrorists in a military recruitment center and at a military base because they were not allowed to have weapons –even though they were trained to use firearms.
Its time for the left to acknowledge the fact that their gun free zone experiment was a colossal failure. Not only did it not stop the violence problem, but it made it even worse. Considering how rare it is for a liberal to acknowledge any past mistakes, however, its more likely that they will continue shoving gun restrictions down the throats of Americans while hundreds die with no way to protect themselves.
Well, until Donald Trump has his way, that is.
Source: Breitbart
Photo: Angrywhitedude