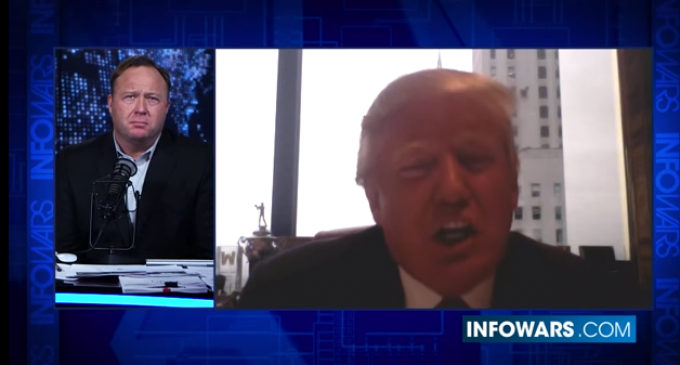 Donald Trump made a surprise visit to Alex Jones' radio show to give an interview, adding that he be "speaking a lot" with Mr. Jones. The surprise appearance made waves throughout the political establishment as the Leftist mainstream media began to have a meltdwon about Mr. Trump's surprise interview.
The Leftist media has had hissy fits about Trump's forwardness and gregariousness in the past. They had a conniption when Trump Tweeted out a link from Info Wars. Alex Jones began trending on Twitter shortly after Donald Trump's interview began, which prompted Obama's front group Media Matters and "Right Wing Watch" to accuse Alex Jones of being an "insane conspiracy theorist."
The Left wing media will use any tool it can to smear Donald Trump and has no problem with attacking anyone he associates with. They would rather Barack Obama would stay in office in perpetuity.
Find out more about Trump's interview with Alex Jones on page 2.