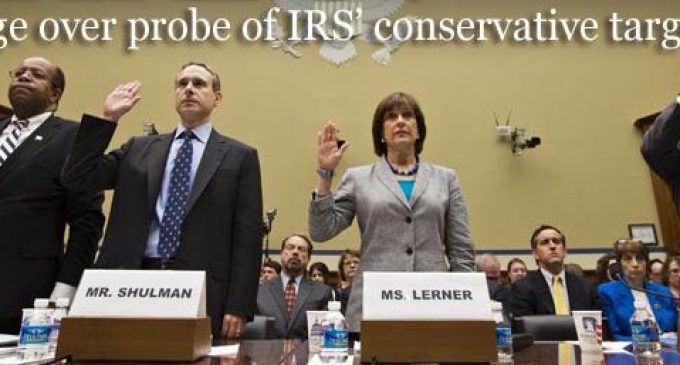 Conservatives are calling the Justice Department probe of the IRS targeting scandal a "sham" investigation.  Earlier this week officials revealed they haven't turned up any evidence of wrongdoing and do not expect to issue criminal charges as a result of the inquiry.  This is probably not a surprise, as lawyers for some of the Tea Party groups targeted for IRS harassment say their clients have not even been contacted yet and the investigation seems to have made little progress, despite wasting months of time.
FoxNews reports:
Jenny Beth Martin, the co-founder of the Tea Party Patriots, called the news "absolutely outrageous."

"It only leads us to the point where we can make guesses about their motives," she said. "Why are they protecting the IRS? Why aren't they getting to the bottom of it? If they don't truly do a real investigation of this there are always going to be doubts and it is not good for the trust between the governors and the governed."

Martin said she believes the Obama administration is attempting to sweep the scandal under the rug, and it appears there is a cover-up.

"They wanted to silence us and they have done what they can to silence us," she said. "We're not going away, but they've done everything they can to make it difficult for us if not impossible at times to exercise our First Amendment rights."

The complaints come after it was revealed that the woman leading the FBI probe is a President Obama donor. Republicans, to no avail, have urged the Justice Department to take her off the case.
This just shows the willingness of the Obama regime to use the DOJ to sow confusion and create distractions from other wrongdoing by government agencies. The "most transparent administration in history" is using DOJ 'probes' as smoke and mirrors, rather than a serious attempt to discover and remedy problems.
Source: FoxNews
Photo: RedFlagNews