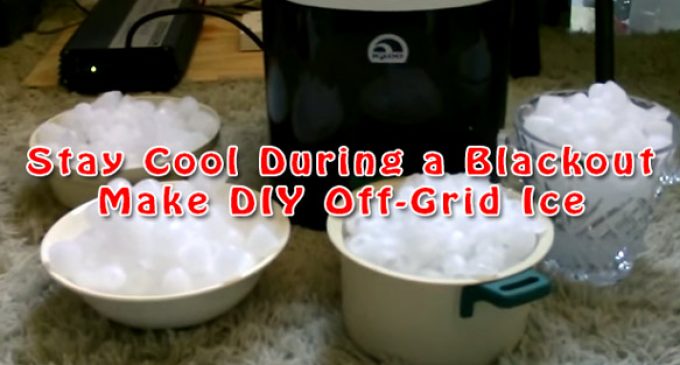 (Easy how-to VIDEO) We all like to think of the power grid as reliable and permanent, but a sudden blackout can shatter that illusion. In the unlikely event of a power outage wouldn't it be great to relax and stay cool, knowing you have other options? Check out this short clip demonstrating a simple solar-powered ice maker setup that will let you keep food and drinks chilled with ice, even without power from the grid!
Our friends over at The Good Survivalist pointed out this DIY technique and you'll want to set one up before the weather gets hot. Of course, you don't need to wait for a blackout to take advantage of this technique. This solar powered system is fast, easy to set up and reliable. Once you have your ice maker running, you'll have a way to stay self-sufficient and save all that money you normally spend for your inefficient freezer to make ice. Grid power isn't getting any cheaper!
You can get all the items you need for this DIY project from stores near you, or online. This solar ice maker can be run via two 45 Watt '3 panel sets' from Harbor Freight Tools (Google it). Or as an option purchase a 90 Watt or more solar panel. These panels will also run a small chest freezer.

In case you need help on how to set up a solar system we've included a second video (below) titled How To Hook Up Solar Panels (with battery bank). This video gives step by step instructions. You will need to use a 1000 Watt inverter so the ice maker will turn on. It needs 800 watts for 1/10 of a second to turn on, and after that runs on 90 watts per hour.
How to hook up Solar Panels (with battery bank) – simple 'detailed' Instructions:
Source: The Good Survivalist